A head-on collision, or a frontal collision, occurs when two vehicles collide from opposite directions. Frontal accidents are rare, but when they occur, the impact forces usually lead to severe injuries. That's why they are considered some of the most dangerous types of road accidents.
If you or a family member has been harmed during a head-on collision that was caused by another motorist, you may qualify for compensation. Unfortunately, proving liability in the process of making a claim is not always straightforward. With a seasoned head-on collision lawyer in Marietta, however, you can navigate those murky waters as you focus on treatment and recovery.
Diaz & Gaeta is a firm located in Marietta, GA, dedicated to helping car accident victims seek the justice and the compensation they deserve. We are here to help you get back on your feet after a car accident, so do not hesitate to reach out by calling our offices at 678-329-9084!
What Are the Common Causes of Head-On Collisions?
Frontal crashes tend to happen when one motorist gets on the other side of the road and comes into contact with an oncoming vehicle. There are numerous reasons that can cause a head-on collision including:
Speeding
Driving at high speeds can make you lose control and veer into the opposite lane, causing a collision with oncoming traffic
Reckless Driving or Overlooking Traffic Rules
We have seen numerous motorists ignore traffic laws and operate in a careless way. An example is turning the wrong way on a one-way road or passing a car on a two-lane road via the opposite lane. Such reckless driving can easily lead to a head-on collision.
Distracted Driving
Whether it is texting while driving, eating while driving, watching videos while driving, or zoning out, a distracted driver poses a huge risk to the safety of everyone on the road. This is particularly the case for commercial truck drivers.
Intoxication
Driving under the influence goes without saying that it increases the possibility of an accident including a frontal crash. Intoxication, particularly alcohol affects judgment and motor control, making the driver prone to speeding. These factors combined increase the chances of a head-on collision.
Driving While Tired
Commercial truck drivers are especially prone to this one. Driving for hours on end ultimately makes the driver tired, but some decide to continue due to factors like strict deadlines. Tired drivers usually have delayed reaction times, making them susceptible to making mistakes. It is also easy to fall asleep behind the wheel when tired, causing the vehicle to veer into the next lane.
What Types of Damages Are Awarded in a Head-On Collision?
In the state of Georgia, filing a car insurance claim is the go-to for accidents. However, you also have the right to file a lawsuit for additional losses or expenses. If you can prove that the other party was liable for your losses or injuries, then you qualify for the following types of damages:
Economic Damages
These kinds of damages are awarded for the financial or monetary losses sustained due to the victim's injuries and damages from the collision. They include:
Past, current, and future medical bills. This includes the cost of medical devices, rehabilitation, and therapy.
Property damage
Lost wages
Transportation costs to the practitioner
Funeral expenses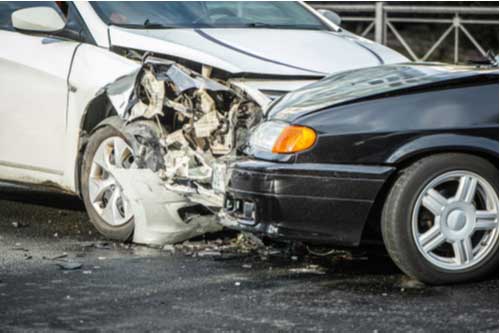 Non-Economic Damages
These kinds of damages are awarded for losses or damages that cannot be quantified or given a monetary value. They include:
Emotional distress
Pain and suffering
Loss of enjoyment in life
Loss of consortium
Loss of companionship, parental or spousal guidance
Punitive Damages
If the jury finds the other motorist grossly negligent, reckless, or malicious, you can also recover punitive damages. These are designed to punish the responsible party for their behavior and further discourage it.
The resulting injuries, losses, or death from a head-on collision required extensive research. That's why it is imperative to work with an experienced Marietta frontal collision lawyer to make sure you get the settlement you deserve.
Why a Head-On Collision Lawyer in Marietta Is Important
Experienced frontal crash attorneys will help ensure you have the upper hand when seeking compensation for your losses and injuries. However, this is not the advantage of having a lawyer in this field by your side. The team at Diaz & Gaeta will help you by doing the following:
Filing a claim
Figuring how much your accident claim is worth
Proving fault or liability, particularly if multiple parties may have been liable for the incident
Conducting negotiations for maximum settlement
Fighting for your rights
Representing you or a loved one in court, should the negotiations fail
How Much Does a Head-On Collision Lawyer in Marietta Cost?
Most car accident victims tend to worry about the legal fees that come with making a claim, thinking they won't be able to afford it. Well, you do not have to fret because most competent lawyers, including Diaz & Gaeta, operate on a contingency fee basis.
This means we will work on your claim for free until you win and if you don't you won't have to pay. We agree on a certain percentage of your compensation from the onset, which you will pay when the case concludes. As you can see, you have nothing to lose by seeking legal representation.
How Long Do I Have to File a Head-On Collision Claim?
The deadline for filing car accident claims in the state of Georgia, including frontal crashes is 2 years from the date of the incident. This is referred to as a statute of limitations. This time frame is put in place to give the victim adequate time to recover before making a claim.
However, it is advisable to use a legal representative to make a claim as early as possible. This will eliminate the chances of people tampering with evidence and witnesses forgetting the accident.
Hire a Head-On Collision Lawyer Today!
Frontal collisions can be catastrophic, traumatizing, and life-changing. So, it is in your best interest to let the professionals handle the case as you recover. Diaz & Gaeta is dedicated to helping car accident victims get the justice and compensation they deserve. Get in touch by calling our Marietta offices at 678-329-9084 today!