Getting a divorce is not as simple as signing on the dotted line. It is about understanding the facts surrounding the case, how it needs to be positioned based on Georgia's regulations, and which will optimize your process moving forward. This is where a family law attorney in Marietta can help.
At Diaz & Gaeta, we are an accredited Marietta law firm that has managed to help clients in the past with their divorce proceedings. We are experienced in handling family law cases and recognize how important it is for our clients to receive appropriate attention throughout the proceedings.
Our attention to detail and passion for helping with divorce, child custody, and other family law cases will ensure you receive professional guidance. To find out more about what we can do for you, please reach out to us at 678-503-2780 to schedule a free consultation. We will make sure everything is done in our power to produce good results.
What Qualifies as a Family Law Case?
Family law deals with civil cases that involve family issues that affect spouses, parents as well as children.
Some cases are more straightforward than others. This is why going with a competent law firm such as Diaz & Gaeta is ideal. The law firm is going to put in the effort needed to understand what the underlying issue is and how it needs to be presented in a court of law.
Family law cases include:
Contested and uncontested divorce.
Parental rights, child custody, and child support.
Spousal support and alimony agreements.
Legal name changes in Georgia.
Restraining orders.
DSS Cases.
It is best to speak to an accredited attorney when you are in a situation such as this. At Diaz & Gaeta, we are well-equipped to help out and will ensure things are done professionally. To find out more about what our law firm offers in Georgia, please take the time to call us at 678-503-2780.
What Are the Grounds for Divorce in Georgia?
It is not easy to be in a situation where you are looking to file for a divorce. This can create a scenario where you are trying to figure out what is acceptable and what is not legal. This includes how the divorce application is going to be filed and what will be included in it.
To get started, you want to know what the grounds for divorce are in Georgia. This can shed light on your options and how the case is going to be presented.
These can include:
Adultery.
Irreconcilable Differences.
Willful Desertion.
Extreme Cruelty.
Insanity.
Willful Neglect.
Certain Criminal Offenses.
Alcoholism or Habitual Intemperance.
Go through your case with a trusted family law attorney in Marietta. This will allow you to get a better read on your options moving forward, which is essential when hoping to do things the right way. To find out more, please take the time to give us a call at 678-503-2780.
How Do You Start the Divorce Process?
As you begin understanding the ins and outs of the divorce process, it becomes important to start properly. The divorce process has a set of steps that need to be adhered to. You will want to consult with an attorney to get a better read on what is required of you.
Consult With a Family Law Attorney in Marietta
The first thing you are going to want to do is to speak to a divorce attorney. The goal is to have someone by your side that has been doing this for a long time. It provides peace of mind and will let you focus on getting the results you're after.
It is not easy to go through this process on your own and you don't have to. Diaz & Gaeta is ready to help at a moment's notice and is going to guide you through each phase in the process. This includes filing the divorce application and making sure it is airtight.
File a Divorce Application
You will also want to move forward with filing for divorce. The attorney is going to sit down with you to go through these details one by one. The goal is to gain a better understanding of your options and then move forward with a reliable solution. If you don't do this, the application might not be filled with accurate information.
Diaz & Gaeta is going to make sure to offer solid advice during the process. This includes what needs to be included in the application and what to account for. It is this information that is going to help shape the process for you moving forward.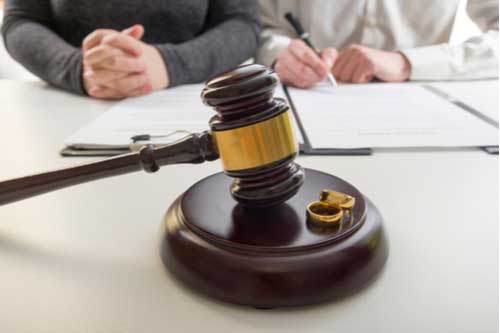 Pay the Court Fees
You are also expected to pay the court fees. With our legal team, we are going to help process each part of the divorce including the fees to make it easier on you. This is going to help pinpoint what your options are as you are setting a budget for the process.
We aim to help set a clear-cut fee and that is going to be mentioned during the legal consultation. Our goal is to let you focus on moving forward with the divorce rather than getting stuck having to pay a lump sum right off the bat.
Speak to us about this at Diaz & Gaeta to learn more about your options. We are happy to work with you to find a solution that works.
Follow Court Procedures
There are specific court procedures that are going to come up during the process. This is going to include mediation and a potential court date depending on how things unfold. This is when you are going to need a trusted family law attorney from Diaz & Gaeta to help out.
We are always there to assist with this part of the process and will ensure things are done with your best interests at heart. This is what makes us the best at what we do. You will know everything is going to be adhered to.
These are the details that are going to matter as you pour through the information available to you. The most important part of the process is to reach out to a trusted attorney. This will save you time as you are guided through the proceedings by someone that is experienced. If that is the direction you wish to go in, please take the time to call us at 678-503-2780.
How Does the Division of Property Work in Georgia?
When it is time to move forward with the division of property in Georgia, the court will look at two kinds of property. Separate property includes assets owned independently by one spouse before the marriage. These assets are generally kept by the original owner.
On the other hand, most assets that were earned or acquired by either spouse during the marriage are considered marital property. This can include any tangible asset including money, properties, businesses, and/or any other element that was set up during the marriage.
Marital property is divided according to the principle of equitable distribution. This doesn't necessarily mean a 50-50 split. Judges will examine a variety of factors to determine the fairest way to divide the property, including each spouse's contributions to the marriage.
How Is Child Custody Decided?
Child custody law focuses on two types of custody. This includes legal and physical custody. The judge is going to take a look at all of the details surrounding the case. This includes specific requirements for the child and which parent is going to do a better job of caring for the child in that particular scenario.
It is important to clarify these details in advance with the help of a family law attorney. To get started on this legal process, we believe it is best to consult with our law firm at 678-503-2780. We are going to set up a detailed legal consultation that will go through these details for you and how it is going to unfold.
What Is Alimony and How Is It Decided?
Once a divorce application has been filed, there are a few details that need to be sorted out. This is going to include how the assets are split between both parties but also whether or not one partner is going to pay alimony to the other.
This is dependent on whether or not one of the spouses was dependent on the other financially. If they were, the court can deem it necessary for there to be an alimony payment. The amount is going to depend on the situation and what the financial split was beforehand.
Call a Top Marietta Family Lawyer Today!
If you are thinking about going with an accredited family law attorney in Marietta then it is time to take a look at Diaz & Gaeta. We are a law firm that has been doing this for a long time and our team has become appreciated for the work we put in.
We are not only professional but also committed to helping our clients with their divorce. This includes every legal step in the proceedings and what will work best for you moving forward. If you want the best, call us today at 678-503-2780 to schedule a free consultation.