Accidents occur almost everywhere, but the thought of slipping, falling, and sustaining injury rarely crosses people's minds. Slips and falls tend to be overlooked, but according to the Center for Disease Control (CDC), they account for 21% of emergency room visits in the country. You can slip and fall anywhere, be it on a sidewalk, at the park, or even at the mall. If you sustain a substantial injury from a slip and fall at another party's property, you may be eligible for compensation.
Unfortunately, proving negligence is usually tricky and when you are hurting, the last thing you want is to stress over the claims process. This is where Diaz & Gaeta comes into the picture. Our experienced Smyrna slip and fall lawyers will take on your case, and guide you through every step of the way to ensure you get the compensation you deserve. Call our Smyrna personal injury lawyers today at 678-329-9084 to schedule a free consultation!
Common Slip and Fall Accidents
The CDC reports that falls are one of the primary causes of injury-related deaths among the elderly. Fall-related accidents are usually severe, leading to injuries like fractured bones, traumatic brain injuries, and spinal cord injuries. That's why property owners in Georgia are legally mandated to keep their premises safe.
However, some still fail to adhere to these rules. Here are some of the common causes of slip and fall accidents:
Slippery or wet floors, walkways, or staircases
Poorly sections of hallways and walkways
Weather-related conditions like when snow is not shoveled away or salted
Spills inside hospitals, nursing homes, malls, stores, etc., that are not cleaned up
Improper upkeep or structural faults, resulting in uneven steps, stairs, potholes, torn carpeting, cracked sidewalks, or broken floor tiles.
Missing handrails on stairs, damaged staircases, elevators that are out of order, etc.
Failure to restrict affected sections or put signs during hazardous conditions
Failure to install roofing gutters, anti-slip devices and storm drains resulting in dangerous conditions during bad weather.
Hazardous debris that is not cleaned up like tree branches or cut grass
How a Smyrna Slip and Fall Lawyer Can Help with Your Case
A competent attorney can help you in an array of ways and give you the best chance of getting a maximum settlement. Here are some of the ways the team at Diaz & Gaeta can help you:
Investigate the Accident and Collect Evidence
In order to file a successful slip and claim, you need to show that the premises owner acted in a negligent manner, which resulted in the accident and thus injuries. This is hard to achieve in most cases, but an experienced attorney will perform a comprehensive investigation to prove the owner knew or should have known about the dangerous condition.
You need solid evidence to build a strong case. Our competent lawyers know the required evidence for slip and fall cases including footage from surveillance cameras and testimonies from witnesses.
Claim Evaluation
There are multiple damages available in these kinds of claims. Damages like medical bills are easy to calculate, while others like emotional distress, pain and suffering are not straightforward and hard to calculate. Our team will know how to best evaluate your slip and fall claim and the settlement amount to seek.
Dealing With the Insurance Company and Litigation
When it comes to making a slip and fall claim, the insurance providers aren't your friend. They try as much as possible to avoid paying the full amount you deserve. Our lawyers know all the strategies insurance adjusters use to reduce or deny claims and will hold them accountable for paying the amount you deserve.
Your lawyer will act as your advocate throughout the whole process and represent your best interests. While most cases are resolved with a settlement, we are well-prepared to fight for you in court if the insurance company will not offer a fair amount.
What Should I Do After a Slip & Fall Accident?
What you do following a slip and fall accident will play a vital role in the amount of settlement your receive down the line. Our team suggests doing the following:
Seek Medical Attention
You should visit a doctor even if the injuries do not seem severe. Some symptoms take days to manifest and you may have sustained internal injuries which can be life-threatening when left unattended. Also, visiting a practitioner will act as a link between the incident and your injuries, which is an element you need to prove when making a claim.
Report the Accident
Ensure you report the accident to the owner or manager right after the fall. This is to establish with them that the incident occurred. Also, ensure you obtain a copy of the accident report for your attorney.
Record the Scene
It is important you capture the cause of the fall and injuries sustained by taking photos and videos. This will act as evidence down the line.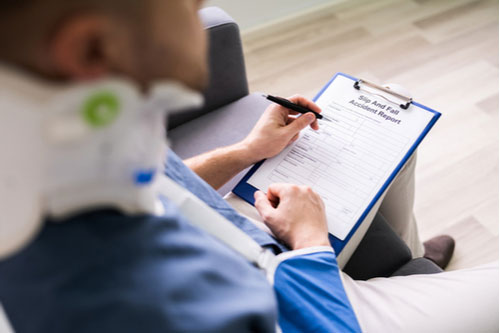 Get Contact Information
Obtain the contact information of the property owner or manager, their insurance carrier, and any witnesses of the accident.
Save Your Clothes
You'll want to save the clothes you wore during the incident as they could serve as substantial evidence to prove you sustained an injury, particularly if they are torn or bloodied.
Avoid Discussing the Incident
Avoid talking about anything related to your accident and injuries to anyone other than your attorney. Discussing the case, especially on social media only risks jeopardizing the claim and the amount of settlement you deserve.
Do Not Give Recorded Statements or Sign any Documents
Avoid signing any documents like a settlement release or giving recorded statements without consulting your lawyer first.
How Is a Slip & Fall Accident Proved in Georgia?
As mentioned earlier, property owners are legally required to maintain their properties at a reasonable degree of safety standard and repair any hazards in a timely fashion. When an accident happens, however, it can be hard to prove that the owner or manager was negligent or responsible for the injuries.
They usually argue that you were partly or completely at fault for the incident. In the state of Georgia, you have to show the following in order to prove the owner was negligent and liable:
The owner was aware of the hazardous situation or should have known about it.
The owner or manager knew about the hazard but they did not take the necessary steps to warn you or repair it.
You were not aware of the dangerous condition, meaning no signs were posted and you could not see it in time.
How Is Liability Determined in a Smyrna Slip & Fall Case?
In order to prove liability in slip and fall cases in Smyrna, you need to show that you didn't know about the existence of the dangerous condition that resulted in injury. If the hazard was 'open and obvious' or in 'plain view', it can be hard to prove that the property owner was responsible for your injuries. During the claims process, expect questions such as:
Did the manager or owner provide any warnings regarding the dangerous condition that resulted in injury?
Did you have any genuine reason to be at the premises at the time of the incident?
Did you engage in any activities that may have contributed to the incident?
Would a reasonably prudent individual in the same situation avoided or stopped the condition if they were not distracted somehow?
Bear in mind that in Georgia, a slip and fall accident victim may be found partly responsible for the injuries. For instance, if you were running recklessly or avoided warning signs, it could be considered negligent behavior. Under the state's comparative negligence law, your settlement amount will be reduced by your fault's percentage.
So, if you were found to be 20% responsible for the incident, and your total damages amount to $50,000, you will only qualify for $40,000. Also, remember that you can only be awarded a settlement as long as you were less than 50% responsible for the incident.
How Much Is My Claim Worth?
It is only natural to wonder about how much money you can be able to receive from your claim. Well, each case is different and the only way to get a relatively close estimate is by consulting a lawyer. The team at Smyrna will evaluate the details of your claim, tell you whether you have a case to begin with, and provide a comprehensive breakdown of how much you can expect.
Are the Time Limits for Slip & Fall Claims?
Yes! In Georgia, the statute of limitations for slip and fall claims is 2 years from the date of the accident. Past this time frame, you will not have legal grounds to file a claim.
Hire a Smyrna Slip & Fall Accident Attorney Today!
If you or a loved one has sustained injuries from a slip and fall accident, do not be afraid to get in touch with Diaz & Gaeta as soon as possible. Slip and fall accidents tend to be challenging when proving liability and so, you'll want the experts on the job as soon as possible. Call our offices at 678-329-9084 today to get started by scheduling a free consultation with a Smyrna slip and fall lawyer.