The Lesbian, Gay, Bisexual, and Transgender (LGBT) community has experienced and still experiences numerous struggles regarding acceptance and equality. Getting nationwide marriage equality back in 2015 was a huge moment.
This achievement also reassured that members of the LGBT community have the right to access the court to address family law issues and other cases like everyone else.
The team at Diaz & Gaeta believes in ensuring our clients feel heard and respected. This philosophy especially applies to members of the Lesbian, Gay, Bisexual, and Transgender community.
It is imperative that all our clients feel comfortable with their lawyers during stressful family and litigation struggles.
Our Sandy Springs LGBT lawyers have proudly represented many people and couples navigating the murky waters of immigration, divorce, child support, alimony, marriage, criminal charges, etc.
If you have any legal issues, do not be afraid to reach out by calling our Sandy Springs law firm at 678-329-9084!
Rights of the LGBT Community in Georgia
2015 came with numerous changes in Georgia's legal system. One of the substantial changes was the legalization of same-sex marriages.
Today, the LGBT community has the same rights and benefits as heterosexual couples when it comes to immigration, green card benefits, divorce, alimony, filing bankruptcy, etc.
At Diaz & Gaeta, our Sandy Springs LGBT Lawyers are here to help you get through any hurdle with ease.
What Types of Cases Can Diaz & Gaeta Help Me With?
We help members of the LGBT community deal with various complex cases including:
Immigration
Our team of immigration lawyers is here to help you and your family achieve the American Dream. We have the personal and professional experience you need to ascertain the path to permanent residence.
Our Sandy Springs LGBT lawyer are experts in family-based immigration work and deportation defense. We specialize in DACA (Deferred Action for Childhood Arrivals) and renewals.
Our firm has represented LGBT clients in federal immigration courts all over Georgia and numerous USCIS (United States Citizenship and Immigration Services) proceedings.
Marriage Visa
The United States Citizenship & Immigration Services (USCIS) is required to review visa petitions filed on behalf of an LGBT individual in the same way as those filed on behalf of a heterosexual person. The agency looks at all applications carefully.
However, same-sex marriage applications can be at risk of unreasonable or improper scrutiny. LGBT marriages usually don't follow the conventional ceremonial 'norms' or match the typical patterns as considered by the agency.
We are here to guide you through the process and protect your rights.
K-1 Fiancé(e) Visa
Following the Supreme Court's ruling against the Defense of Marriage Act (DOMA), same-sex couples are legally allowed to apply for a K-1 Fiancé(e) Visa under similar qualifications as the opposite-sex couples.
To qualify for this visa, you need to prove that you are in an ongoing relationship and intend to get married. You are expected to meet the same criteria as other K-1 immigrants and do specific things once in the U.S.
To increase the chances of your petition acceptance, an experienced k-1 visa attorney will help you determine your eligibility for the program and the steps to follow.
U.S. Citizenship Naturalization
Diaz & Gaeta can help LGBT clients who are already lawful permanent residents become U.S. Citizens through naturalization. We will assess your immigration and criminal history to establish if you are eligible.
We will then help you put together a strong application for naturalization and get you up to speed for your interview.
If you are considering naturalization, working with an immigration attorney is crucial to maximizing your application's chances.
Green Card
LGBT couples are also eligible for green cards and achieve permanent residency via a marriage-based case, assuming the foreign spouse entered the country legally.
In such a situation, a green card may be provided for a two-year conditional resident status or ten-year permanent resident status.
The green card process is the initial process toward becoming a US citizen. People who hold a green card for 3 years and remained married and stayed in the United States for at least half of that period are eligible for U.S citizenship naturalization.
Asylum
If you apply for asylum, you need to prove that you are a refugee and have a fear of persecution in your home country as a result of your nationality, race, political opinion, religion, or membership in a certain social group.
In this regard, you can obtain asylee status by showing that you have a fear of persecution based on your membership in a social group based on gender identity or sexual orientation.
Your Sandy Springs LGBT lawyer will help present evidence of past suffering, physical abuse, sexual abuse, or fear of future persecution because of your sexual orientation and/or gender identity.
Withholding of Removal
LGBT members seeking asylum but don't meet the one-year bar as they have been in the United States for more than a year and there haven't been changes in their home country, they may be eligible for Withholding of Removal.
This only applies if you are already in deportation (removal) proceedings and is successful, it stops you from being deported, provides you with a work permit, and allows you to live in the United States.
A competent Sandy Springs LGBT lawyer from Diaz & Gaeta will help you navigate this complex process.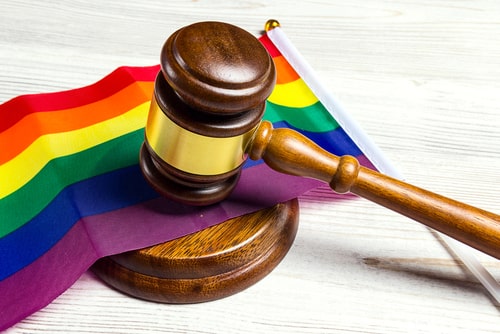 Criminal Charges
No matter your sexual orientation or gender identity, being accused of a crime is one of the most frightening and traumatic things you can experience.
Whether you've simply been issued a citation or arrested by the police, being accused of a crime can be dramatic and life-changing. That's why you need an experienced and aggressive lawyer by your side.
The team of criminal defense lawyers at Diaz & Gaeta will provide legal representation in any criminal case including domestic and battery cases, DUI, drug offenses, traffic offenses, theft cases, major felonies, etc.
Drug Possession
Drug charges not only come with the threat of fines and jail time, but they can have a substantial impact on your career and ability to drive. Our team will work hard to protect your rights and in the event of a no-trial resolution, avoid jail time, hefty fines, and a detrimental criminal record.
We provide top-of-the-line legal representation in any drug case including:
Marijuana possession
Cocaine possession
Methamphetamine possession
Ecstasy possession
Sale of illegal drugs
Possession of illegal drugs with the intent to sell or distribute
Drug trafficking.
DUI
At Diaz & Gaeta, we understand the impact a driving under the influence charge can have on both your personal and professional life. The potential repercussions of driver's license suspension, fines, and even jail time can have a substantial effect on you, your career, and your loved ones.
DUIs usually call for quick action in order to protect your rights and retain your driving privileges. Usually, you need to take legal action within the first 10 days of your arrest or citation on a DUI, or you may lose your driving privileges for some time.
By hiring our experienced team of Sandy Springs LGBT lawyers, it only takes a brief consultation for the team to take action and ensure your ability to drive remains even as your case continues.
Note: Our Team of Sandy Springs LGBT Lawyers also handle other misdemeanors and felony charges.
Other Cases We Handle:
Our Sandy Springs LGBT lawyers also handle the following cases:
Divorce
Child Support
Custody Litigation
Restraining Order
Domestic Violence
Alimony
How is Diaz & Gaeta the Best Sandy Springs LGBT lawyer for these cases?
Our team believes in equality and human dignity regardless of an individual's sexual orientation or gender identity. The LGBT community has faced scrutiny, oppression, and discrimination in various fields and aspects.
That's why we have seasoned lawyers on our team to help protect the rights of the LGBT community.
Hire a Sandy Springs LGBT Lawyer Today!
The LGBT community experiences challenges of all shapes and sizes. Some are straightforward and easy to handle, while others are complex and arduous. The team of Sandy Springs LGBT lawyers at Diaz & Gaeta has an unparalleled depth and breadth of experience and knowledge in LGBT issues.
We serve Sandy Springs and surrounding areas in Georgia and have been in the industry for years. We understand your concerns and experience.
With our extensive experience in same-sex couple issues and unwavering commitment to getting the best results, you can expect the best representation.
Call our Sandy Springs office at 678-329-9084 to get started with a free consultation!