Pedestrian accidents are some of the most frightening you can ever experience. They usually cause serious injuries such as spinal fractures, broken bones, and traumatic brain injuries, among many others. Nobody deserves to be struck by a truck, car, motorcycle, or bicycle. Unfortunately, pedestrian accident victims often feel unsure of what to do following their accident.
If you or a loved one was recently involved in a pedestrian accident in Marietta, Georgia, you should contact an experienced lawyer as soon as possible. The knowledgeable Marietta pedestrian accident lawyers at Diaz & Gaeta can investigate the cause of your accident and help you recover the compensation you need from the negligent party.
Call our Marietta car accident lawyers today at 678-503-2780 to schedule your free, no-obligation consultation and case evaluation.
What Are the Main Causes of Pedestrian Accidents?
The most common causes of pedestrian accidents in Marietta, GA are:
Failure to Yield Right of Way
"Right of way" refers to the legal right of a motorist or pedestrian to proceed with precedence in a certain situation or location. Failure to yield right of way is when a motorist or pedestrian commits a traffic violation by proceeding without giving the other party precedence – for example, when a car fails to yield to a pedestrian in a crosswalk.
Speeding
Speeding is one of the leading factors of motor vehicle accidents in the U.S.A. and Marietta isn't an exception. Traveling above the posted speed limit dramatically increases the risk of an accident. If a car is traveling faster, the driver might not have enough time to react to a pedestrian crossing the road. Speeding also increases the potential severity of the pedestrian's injuries.
Driving Under the Influence
Driving while under the influence of either alcohol or drugs is a contributing factor in thousands of pedestrian accidents each year. Drugs and alcohol can impair judgment leading to drivers making left turns directly into a group of pedestrians or driving through crosswalks against the traffic lights thus resulting in pedestrian accidents.
Poor Lighting
Poor or inadequate lighting usually makes it difficult for drivers to see pedestrians either crossing or walking along roads. When there's adequate lighting at intersections, motorists are able to see pedestrians crossing the road. In the absence of abundant lighting, however, it can be difficult for drivers to see pedestrians before it's too late.
Distracted Driving
Distracted drivers who talk or text on cell phones not only endanger the lives and safety of pedestrians but other drivers too. Similarly, pedestrians focusing on their digital devices while crossing or walking along streets are also at risk for accidents. Bottom line: motorists and pedestrians should avoid using digital devices while driving or walking in traffic.
What Should I Do After a Pedestrian Accident?
You should do the following after being involved in a pedestrian accident in Marietta, GA:
Seek Medical Assistance Immediately
You should seek medical attention immediately after your pedestrian accident. If you are involved in an accident, the adrenaline produced by the body can dull the pain of your injuries. You need to tell your doctor about any pain you are experiencing and avoid brushing off anything that might not seem important.
Document Your Injuries
You should also document everything about the injuries you have sustained. You should document any visual injuries and any areas of the body that are in pain. It is important to document whether any of your clothes are torn since this could indicate areas where the body has suffered an injury even if you aren't feeling pain at this time.
Call the Police
You should also call the police as soon as you can so that they can file a report for the accident. If there's reasonable suspicion the driver was driving under the influence, the police may arrest him/her after filing the report. The police report will provide valuable evidence if you decide to pursue a civil suit against the at-fault driver.
Do Not Discuss Fault at the Scene or With the Motorist's Insurance Company
You must never discuss fault at the scene or with the motorist's insurance company no matter what happened leading up to the accident. Anything you say to the insurance company can be used against you if you file a lawsuit for compensation. You should also avoid talking about the accident on social media for the same reasons.
Contact Your Insurance Company
If you have car insurance, you should make sure that you get in touch with them soon after the accident. Even though you were a pedestrian in the accident, most car insurance policies typically cover these accidents. It is necessary to do this to ensure that you are able to make a medical or disability claim after the accident.
Call a Marietta Pedestrian Accident Lawyer
You also need to seek professional legal assistance to help you pursue compensation from the at-fault driver. Once you have spoken to a lawyer, you will know what to say and what not to say once the insurance adjusters call you. If you have been injured in a pedestrian accident in Marietta, GA, the experienced pedestrian accident lawyers at Diaz & Gaeta for a free consultation on your case.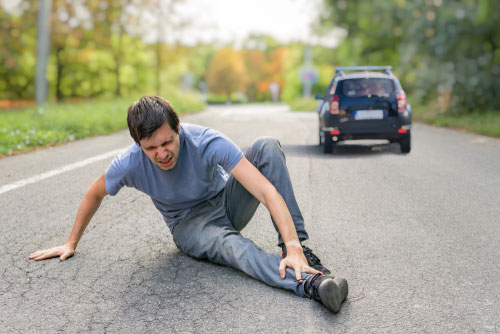 How Do You Determine Liability or Fault in a Pedestrian Accident in Georgia?
To determine liability or fault in a Georgia pedestrian accident case, you must prove the following 4 elements of negligence:
Duty of Care
The defendant must have owed you consideration for your safety known as a "duty of care." If a driver struck you, they owe you a duty of care since all drivers have a duty to drive safely, follow all the traffic laws, etc.
Breach of Duty
The defendant must have breached that duty of care. After showing that the defendant owed you a duty of care, you will then be required to show that their actions violated that duty. The driver can breach this duty by not obeying the traffic laws or driving carelessly.
Causation
It isn't enough to show that the defendant was negligent. You are also required to prove that the actions of the negligent party directly caused the accident and your injuries and property losses.
Damages
To recover the costs of an accident, you must prove that you suffered losses that are directly related to the accident. This may include income losses, costs related to your injuries, and property damage.
How Can a Pedestrian Accident Attorney Assist with My Claim?
Here are some of the ways our pedestrian accident lawyers can assist with your claim:
Case Preparation
Our skilled attorneys will ensure that your claim is prepared accurately so that you can get the compensation you deserve. To do that, they investigate the circumstances of the accident and complete and file the necessary paperwork for the claims process. If we feel that the insurance company is unlikely to negotiate in good faith, we can file a lawsuit on your behalf.
Settlement Negotiations
Our skilled lawyers know how to handle settlement negotiations to help you recover the most compensation possible. You shouldn't be tricked by the insurance company to get into settlement negotiations without a lawyer since they will have experienced lawyers representing you and will offer you the worst possible settlement.
Trial Preparation and Representation
If the settlement negotiations do not work out as planned, our lawyers will take your pursuit of justice to the courts. Our lawyers will prepare for the trial well in advance, perhaps even before getting into settlement negotiations, to come up with the best course of action and actually represent you in to ensure that you receive the best possible verdict
How Much Time Do You Have to File a Pedestrian Injury Claim in Georgia?
The amount of time you have to file a pedestrian injury claim, which is referred to as the statute of limitations in Georgia is 2 years. The 2-year period starts on the date of the accident. There are a handful of instances when the time can be extended, but you will lose your right to sue permanently if you fail to file the case within 2 years.
How Much Does It Cost to Hire a Pedestrian Accident Lawyer?
Marietta pedestrian accident lawyers typically work on a contingency fee basis, which means that they do not get paid unless they win your case. Once a judgment or settlement in your pedestrian accident case is secured on your behalf, the lawyers take a percentage.
Injured in a Pedestrian Accident in Marietta? We Can Help!
If a driver injures you while you are walking along the road or crossing the road in Marietta, you should hire an experienced, effective, and aggressive lawyer to protect your interests. Handling the complicated, unfamiliar legal aspects of the accident can be both stressful and frustrating.
Our experienced pedestrian accident lawyers at Diaz & Gaeta in Marietta, GA will thoroughly explain the law and give you the necessary guidance to ease your mind. We will also do everything legally possible to ensure that we recover the maximum possible compensation for your injuries and losses.
To schedule a free, no-obligation consultation and case evaluation, call us today at 678-503-2780!