The brain is the most fragile organ in the human body. That's why it is enclosed by the skull and fluid that acts as a shock absorber. However, these protections are not always adequate to prevent brain injuries.
Minor brain injuries such as concussions are not always serious if you seek treatment immediately. However, a serious traumatic brain injury (TBI) can be life-altering with permanent consequences.
If you have experienced a traumatic brain injury as a result of an accident that was not your fault, you may be eligible for compensation from the liable party. This is where our Sandy Springs traumatic brain injury lawyers at Diaz & Gaeta come in.
Our team of personal injury lawyers in Sandy Springs has vast experience fighting for clients with traumatic brain injuries. So, if you or a loved one is a victim, do not hesitate to seek representation by calling 678-329-9084 today!
How Do I Know If I Have a Brain Injury?
Following an accident, most people focus on external injuries with tangible or physical symptoms. However, what most fail to realize is that impacts can also lead to internal injuries that are not apparent until a qualified practitioner conducts some tests.
Traumatic brain injury signs and symptoms can either be mild or severe, depending on how serious the injury is. In regard to brain injuries, the more you ignore the symptoms, the worse they become.
In some situations, traumatic brain injuries take days or even weeks to become apparent.
If you hit your head during a fall, a car crash, or any other type of accident and have been having headaches, migraines, blurred vision, or dizziness, you should consult your doctor immediately.
What Are the Common Causes of TBIs?
Traumatic brain injuries are caused by an array of things including:
Sports Accidents
Violence.
At Diaz & Gaeta, we have observed how nursing home falls lead to TBIs among the elderly. Many of the TBI cases we see involve car crashes, truck accidents, and motorcycle accidents. Your Sandy Springs Traumatic Brain Injury Lawyer will work towards the best outcome for you.
Our team of experienced personal injury attorneys is committed to helping victims of TBI and their families recover the compensation they deserve. We work tirelessly to investigate the accident, gather evidence, and build a strong case on your behalf.
Our goal is to achieve the best possible outcome for you, whether through negotiation or litigation.
We understand that dealing with the aftermath of a traumatic brain injury can be overwhelming and emotional, which is why we provide personalized attention and support to each of our clients. Our Sandy Springs traumatic brain injury lawyers keep you informed throughout the legal process and advocate for your rights every step of the way.
What Are the Types of Brain Injuries?
According to the Center for Diseases Control (CDC), brain injuries fall into various categories. These include:
Open Injuries
Here, the victim's brain gets penetrated by a sharp object or instrument.
Closed Injuries
In closed injury TBI, the skull doesn't get pierced, but the brain gets injured. A closed traumatic brain injury tends to happen during falls and auto accidents.
Deceleration Injury
In this TBI, the brain gets slammed against the skull.
Toxic or Chemical Injury
In this type of brain injury, a toxic substance such as lead, carbon monoxide, etc., gets into the circulation system and makes its way into the brain, causing damage.
Hypoxia
Hypoxia is a form of brain injury that occurs when the brain lacks oxygen, usually due to a near-drowning accident, stroke, or heart attack.
Medical Reasons
A brain injury can also happen due to conditions like infections, tumors, or strokes.
What Are the Symptoms of a Traumatic Brain Injury?
Traumatic brain injuries differ substantially depending on the nature and extent of the injury sustained. Some of the common symptoms of a TBI include:
Emotional outbursts
Depression
Persistent headaches
Memory issues
Dizziness
Fatigue
Difficulty concentrating
Seizures
The inability to do routine tasks
Balance problems.
It is important to note that these symptoms can vary in severity and may not be immediately apparent after the accident.
Therefore, it is important to seek medical attention as soon as possible if you believe you have suffered a traumatic brain injury. Prompt medical treatment can help prevent further damage and improve your chances of recovery. It is advised by our experienced team of Sandy Springs traumatic brain injury lawyers to do this.
The Importance of Visiting a Doctor After a Head Injury
Unless there's an open head injury where an object penetrates the skull, brain injuries may not be immediately apparent. In addition, the signs and symptoms of the injury may be delayed or misconstrued.
That's why it is vital to see a qualified doctor as soon as you sustain a head injury to determine if you have sustained a brain injury.
Also, it is advisable to see a practitioner who can assess the extent of your injury and treat it accordingly. When a TBI is left untreated, it only becomes worse with even more worrying consequences over time.
In addition to seeking medical attention for TBI, it is also important to keep detailed records of your medical treatment and related expenses.
This includes keeping copies of medical reports, bills, and receipts for any out-of-pocket expenses. These records can be used by your Sandys Springs slip and fall lawyer to support your claim for compensation if you decide to pursue legal action.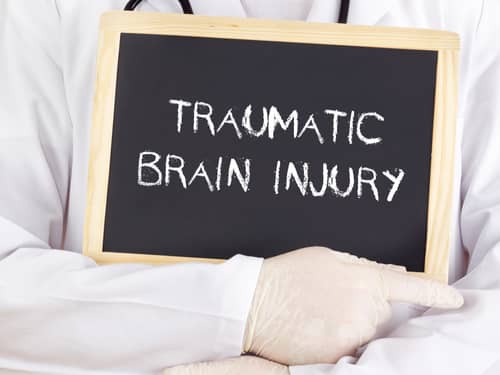 Why Should I Hire a Sandy Springs Traumatic Brain Injury Lawyer?
TBIs can have severe consequences, some permanent to your life. If you have been injured due to the carelessness or negligence of another party, it's important to note that you may qualify for settlement in Sandy Springs via a traumatic brain injury claim.
However, in order to be compensated, you have to go about the claim in accordance with Georgia law.
More often than not, the defendant's insurance carrier takes up the claim. Since they are out to make a profit, they will attempt to make the lowest settlement possible, if not none.
That's why you should have a seasoned traumatic brain injury from Diaz & Gaeta by your side.
Here's a brief look at some of the reasons you should consider our team for your case:
We will fight for your rights in order to make sure you get the compensation you deserve. Our Sandy Springs Traumatic Brain Injury Lawyers are seasoned in personal injury cases and have handled similar cases.
We will collect the necessary evidence, negotiate with the insurance provider and represent you in court if the other party does not agree to a fair agreement.
Remember, taking prompt action after a slip and fall accident can make a significant difference in the outcome of your case. Seeking medical attention, gathering evidence, and consulting with your Sandy Springs traumatic brain injury lawyer can all help to protect your rights and ensure that you receive the compensation you deserve.
Can Insurance Carriers Get My Past Medical Records?
Insurance carriers are in business, and so they will do whatever they can to lower or deny a claim. They usually do this by asking for your past medical records, looking for gaps that they can take advantage of in order to come up with claims like pre-existing conditions are the reason behind your illness or injury.
They may also hire specialists to assess your injury with the aim of ruling out the party at fault.
If the insurance adjusters ask for past medical records, the team at Diaz & Gaeta will be there to handle things on your behalf, but only if you act swiftly.
Do not make the mistake of signing a medical records release form without the consent of a reputable Sandy Springs Traumatic Brain Injury Lawyer who has experience in the traumatic brain injury, or at least personal injury field.
What Happens When the Insurance Provider Does Not Pay Your Medical Bills?
If the insurance carrier of the other party declines your claim, our traumatic brain injury lawyers will be ready to take the matter to court. Our team is always prepared for the worst, and we will aggressively help you seek the settlement you deserve.
We are seasoned at representing such matters in court and helping Sandy Springs victims get what they deserve.
What Compensation Can I Receive for a Brain Injury?
There's no more important organ in the human body than the brain. It controls all body processes, including metabolism and overall functionality.
A TBI injury will certainly upend a person's way of life, sometimes permanently.
Although your brain cannot be given a monetary value, getting financial restitution is crucial since it will assist in catering to the medical expenses and cover other facets of your life.
You can seek compensation for:
Medical bills (past and future)
Loss of income
Non-economic damages for pain and suffering
Costs of burial in cases of wrongful death.
seeking financial compensation can help alleviate some of the financial stress associated with the injury and allow you to focus on your recovery. It can also provide a sense of justice and closure by holding the negligent party accountable for their actions.
When pursuing compensation for a slip and fall accident, it is important to work with an experienced Sandy Springs traumatic brain injury lawyer who can help you navigate the legal system and negotiate with insurance companies or opposing parties.
Your Sandy Springs traumatic brain injury lawyer can help you determine the full extent of your damages, including future medical expenses and lost earning capacity, and seek the maximum amount of compensation possible.
Are There Time Limits for Filing a TBI Claim in Georgia?
If you live in Sandy Springs, GA, and have suffered a TBI injury, you've got two years following the accident to file a TBI claim.
Therefore, it is important to gather evidence and seek legal representation to ensure that your rights are protected and that you receive fair compensation for your injuries and losses.
An experienced Sandy Springs traumatic brain injury lawyer can investigate the accident, evaluate the strength of your case, and negotiate with the opposing party or insurance company on your behalf.
Remember, traumatic brain injuries can have a significant impact on your life and future, and seeking legal help can be crucial in ensuring that you receive the compensation you deserve.
If you have suffered a TBI injury as a result of a slip and fall accident in Sandy Springs, Georgia, do not hesitate to contact a personal injury attorney to discuss your legal options. Our trusted team of Sandy Springs traumatic brain injury lawyers will assist with your legal decisions.
Get Expert Help From Our Sandy Springs Traumatic Brain Injury Lawyers!
A TBI injury is severe and can be debilitating. Recuperating from such an injury isn't easy and will take a lot of willpower and financial backing. We at Diaz & Gaeta empathize with you and will do everything possible within the law to build an airtight case that guarantees your recompense.
Please call our law offices at 678-329-9084 for a free consultation with our Sandy Springs traumatic brain injury lawyers!