Family law encompasses a host of family-related issues. Besides being a legal issue, family law cases involve intricate psychological, emotional, and financial aspects.
With so much on the line, there's tremendous stress involved and emotions are usually charged. Enlisting a skilled Sandy Springs family law attorney will ensure your rights and interests are protected.
We at Diaz & Gaeta Attorneys At Law in Sandy Springs, GA are specialists when it comes to family law. Our attorneys are dedicated and will be compassionate when reviewing your case because we know that every situation is different.
We will take time to listen to your side of the story and come up with a way to reach a successful resolution.
Our sole goal in any child custody, divorce, adoption, or other family law cases is to deliver expert legal counsel in addition to personal attention and support during this tumultuous period in your life.
Our services have been specially configured to handle the different needs of our clients.
Our experienced team of divorce and Sandy Springs family law attorneys is fully devoted to helping you attain your objectives. You can get in touch with our Diaz & Gaeta Law Offices in Sandy Springs, GA at 678-329-9084 to book a free consultation TODAY!
What Qualifies as a Family Law Case?
At Diaz & Gaeta, our Sandy Springs family law attorneys have extensive experience handling and winning these types of cases in Sandy Springs, GA and we can assist you too. Here are some of the family law cases we deal with:
Contested and uncontested divorce.
Parental rights, child custody, and child support.
Spousal support and alimony agreements.
Legal name changes in Georgia.
Restraining orders.
DSS Cases.
What Are the Grounds for Divorce in Sandy Springs, GA?
Georgia's Official Code has 13 recognized grounds for divorce including:
Cruel treatment.
Desertion.
Adultery.
Habitual drug addiction.
Incurable mental condition.
Habitual intoxication.
Intermarriage by persons with forbidden kinship.
Impotency at the time of the marriage.
Mental incapacitation during the period of marriage.
Pregnancy by another man unknown to husband at the period of marriage.
Menace, force, fraud, or duress used in acquiring the marriage.
Conviction of a crime of moral depravity that leads to a prison term of 2 years or more.
The 13th ground to file for divorce in Georgia is filing for a no-fault divorce. To get a no-fault divorce, one party must declare that the marriage is "irreversibly broken." Most of the divorces that occur in Georgia are filed under no-fault divorces. Our Experienced team of Sandy Springs family law attorneys can help guide you with this.
How Do You Start the Divorce Process?
Every divorce process will somewhat vary depending on the couple's circumstances. All in all, it will entail the following steps:
Requesting a provisional order (if need be).
The divorce complaint is served to spouse.
Spouse responds to the complaint.
Settlement negotiations.
Trial.
Judgment of divorce is served.
For an uncontested divorce, the divorce proceedings can be completed within 31 days following the serving of the complaint, though it might be a little longer depending on the schedule of the judge.
In the case of a contested divorce, the entire procedure can last from 6 months to multiple years to complete. For this reason, It is crucial to contact a Sandy Springs family law attorney to begin this process.
How Does the Division of Property Work in Georgia?
With regard to the division of property in divorce cases, Georgia is categorized as an "equitable distribution state." This implies that Georgia courts split property in a manner they deem fair to both parties, however, that doesn't mean that each spouse will receive the same division of assets.
The final verdict is contingent on what the court deems to be fair, and the outcome can sometimes leave both parties confused.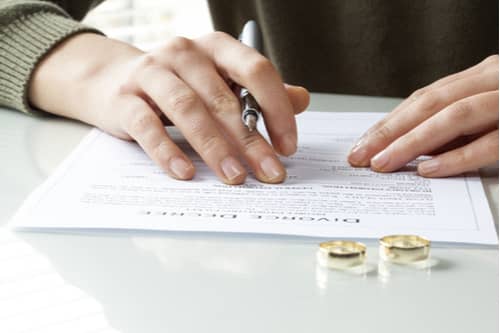 Marital vs. Separate Property
Not every asset owned in the course of a marriage is classified as marital property. Some assets which were owned pre-marriage, or were gifted to one party by a third party in the course of a marriage may be categorized as separate property.
Before a property is split, it has to be clearly defined. At times, spouses can opt to cooperate or use mediators and/or lawyers to come up with an amicable property division agreement that each party is comfortable with.
In the event they cannot do this, the court will use the following factors to determine the division of property:
The financial status of each spouse.
The quantity of separate property each spouse owns.
The earning potential and income of each spouse.
Future debts and needs held by each spouse.
The financial conduct of each spouse during the span of the marriage, including wasteful spending.
Your Sandy Springs family law attorney will be critical in the process of dividing assets.
How Is Child Custody Decided?
Child custody law in Georgia stipulates that, in determining custody cases, there will be no presumptions as to which spouse deserves custody the most: Both parties have the same footing when they go to court.
Like many states, the final custody decision will be based on the child(ren)'s best interests.
Nevertheless, Georgia statutes clearly state that custody arrangements are favored, and specify that going to court should be the last option.
Judges can assist by modifying agreements as they deem fit, but otherwise, a judge is mandated to clarify the reason they decided to go in a different direction than the custody agreement filed by the couple.
If the couple can't come up with a custody agreement on their own, Georgia courts will take it upon themselves to make the custody decision based on the child(ren)'s best interests.
Georgia's child custody laws catalogue 17 factors that a judge should take under consideration when assessing who should get custody of the child(ren). And the judge isn't constricted to those factors alone.
The list is a bit more lengthy than other states and includes:
The affection, love, and emotional ties between the child and each parent.
The ability and willingness of each parent to provide for the basic needs of the child(ren) – medical care, clothing, food, etc. – while taking into account prospective child support payment.
The ability and willingness of the parent to encourage and facilitate a close relationship between the child(ren) and the other parent, in line with the child's best interests.
Establishing primary physical custody will stipulate where the primary residence of the child will be while establishing legal custody will stipulate which spouse has the mandate to make important life decisions for the child(ren).
Both legal and physical custody can be given to a single parent or joint physical and legal custody shared between both spouses. The experienced team of Sandy Springs family law attorneys are well equipped to assist you with this.
What Is Alimony and How Is It Decided?
Also referred to as spousal maintenance, alimony payment is a regular, predetermined sum that is given to a current or former spouse following a divorce or separation. Here's how a judge determines alimony payments:
Duration of marriage.
Health and age of spouse filing for alimony.
The financial position of each party.
Income of each spouse.
Earning capability of each party.
Non-economic and economic contributions that each party made to the marriage.
Maintaining a certain living standard the spouse receiving alimony during the marriage.
Let Our Sandy Springs Family Law Attorneys Fight for You!
At Diaz & Gaeta Attorneys At Law, our Sandy Springs family law attorneys have extensive experience fighting for people undergoing your situation in Sandy Springs, GA and we can assist you.
We take family law cases very seriously given that your relationships, your property, and your child(ren) are at stake. This is why we will fight for your rights in litigation to ensure you receive a desirable outcome
You can depend on us to get you an equitable and fair settlement. Contact our law offices at 678-329-9084 NOW to book a free consultation with our Sandy Springs family law attorneys!