The freedom and efficiency of motorcycle travel are equaled only by the considerable damage that can be sustained in accidents with larger vehicles with lethal velocity.
If you or someone in your family has been injured in a motorcycle accident caused by the actions of another motorist, you have the right to compensation. At the Law Offices of Diaz & Gaeta, we are a team of Sandy Springs auto accident lawyers with extensive experience handling motorcycle accident cases.
Call Diaz & Gaeta at 678-503-2780 and arrange for a FREE consultation with a top-notch Sandy Springs motorcycle accident lawyer. We offer our experience, resources, and tenacity in recovering your compensation and helping you make a full recovery so that you can get back on your bike and back on the road.
How Can a Sandy Springs Motorcycle Accident Lawyer Help With My Compensation Claim?
An experienced Sandy Springs motorcycle accident lawyer can add considerable value and increase your chances of a successful outcome to your case and claim.
Gathering Evidence
A case is only as strong as the evidence that supports it. Our Sandy Springs motorcycle accident lawyers have the skills to build a bulletproof case that will carry heft in our negotiations and stand strong if the case is taken to the courts.
For example, we will revisit the scene of the accident with the help of experts to recreate the accident and better understand why the events occurred. This not only makes a much stronger case but can bring to light smaller details about the accident that may go completely unnoticed.
We will also interview eyewitnesses and examine the photo evidence collected at the scene to gain a complete understanding of the accident and accurately determine the fault in the accident.
In all, Your Sandy Springs motorcycle accident lawyer will leverage all evidence to help support your claim.
Preparing & Filing Your Case
In addition to highlighting the strengths and weaknesses of your case and planning a course for your most positive outcome, our Sandy Springs motorcycle accident lawyers will file your claim with precision and ensure you meet the two-year filing deadline. A carefully prepared case will leave no room for crafty insurance adjusters to find loopholes that allow them to escape without paying damages.
Your Sandy Springs motorcycle accident lawyer will elminate the possibility of loopholes.
Settlement Negotiations
We will be handling all the communications with the insurance company so that you don't have to. We are skilled negotiators who can fight for justice in your case. If the insurance company denies your claim or gives you a low-ball offer, we will be prepared to fight them in court.
Trial Preparation & Representation
If the insurance company doesn't agree to reach a fair compensation award, your Sandy Springs motorcycle accident lawyer will proceed to bring your case to trial, where it's up to the jury to establish whether or not you are eligible for compensation. Your Sandy Springs motorcycle accident lawyer will work to present the strongest case possible backed by compelling evidence to raise your chances of getting a favorable outcome.
What Are the Most Common Causes of Motorcycle Accidents?
Slick roads, adverse weather conditions, and poorly constructed roads can cause accidents. But the vast majority of motorcycle accidents are preventable and caused by the failure of motorists to abide by the traffic laws. Some of the most common causes of motorcycle accidents include:
Distracted driving — Distracted driving is anything that takes the driver's eyes, hands, or minds off navigating their vehicle through traffic.
Failure to pay attention to motorcycles — Because of their smaller profile and agile movement, motorcycles can go unseen by motorists who are not paying attention to the road
Drunk driving or drugged driving — The effects of alcohol, narcotics, and even certain medications can affect the capacity of a driver to safely drive their vehicle.
Faulty mirrors, brakes, or lighting — A malfunctioning car is a threat to other vehicles on the road.
Unexpected pedestrians on the road — Jaywalkers and joggers can present a sudden obstacle to motorcyclists if they step out into traffic unexpectedly.
Manufacturing errors — There are some instances when an error in the manufacturing of the motorcycle can lead to an accident. If the accident was caused in the manufacturing or service of the motorcycle, these technicians may be liable for the accident.
What Are the Most Common Injuries Seen in Motorcycle Accidents?
Motorcycles are designed for lightweight efficient travel. For better or worse, this doesn't provide the rider with much protection from being impacted by a vehicle or thrown to the pavement. Even smaller accidents at relatively moderate speeds can result in devastating injuries, some of which may never fully heal:
Broken Bones — When a motorcycle is T-boned by another vehicle or a rider is thrown to the ground, riders typically suffer broken bones. Ribs, legs, arms, collarbones, femurs, and ulnas are the most commonly broken bones.
Road Rash — With no protection from the pavement, being thrown across the ground is fairly common in motorcycle crashes. Protective clothing can do so much to protect the rider from scarring and tissue damage.
Head and Brain Injuries — Helmets go a long way in protecting the head from impact. But motorcycle crashes can still leave victims with a traumatic brain injury. Brain damage can have especially long-lasting side effects.
Spinal Cord Injuries — If the back is impacted, damage can be done to the delicate nerves of the spinal cord housed within the vertebrae. This can lead to partial or total paralysis.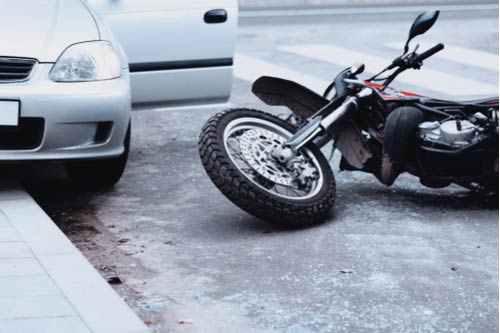 How Is Fault Determined in a Sandy Springs Motorcycle Accident?
The state of Georgia applies the concept of modified comparative negligence in assigning liability in motorcycle accident cases. This means that both parties involved in the case can be assigned a certain amount of liability depending on their amount of involvement. So long as the victim is less than 50% to blame for the events that resulted in an accident, they can receive compensation for their damages.
Nevertheless, the compensation they can collect will be reduced by their amount of involvement in the accident.
For example, if the victim was found 20% to blame for the accident because they were speeding, they will only be eligible to receive 80% of the compensation. If the damages were found to be worth $20,000, the victim will only receive $16,000 in compensation. Your Sandy Springs motorcycle accident lawyer will help guide you through this.
What Type of Compensation Can I Receive for My Motorcycle Accident?
It can be difficult to determine what types of damages will apply to your case without carefully reviewing all the details. It will be the details of the case that determines the damages and amounts of compensation to be recovered.
In Georgia, damages will fall into the following categories:
Economic Damages
These damages seek to compensate the victim and their families for the economic implications of the accident. These damages can be calculated by collecting bills, pay stubs, receipts, and all kinds of other financial documents.
This can include the costs of medical expenses, treatments, procedures, and doctor's bills. They can also cover lost wages, loss of earning capacity, and any other expenses related to the accident such as home modifications for a disability. Economic damages cover expenses in the past, present, and future.
Your Sandy Springs motorcycle accident lawyer will ensure all avenues have been leveraged.
Non-Economic Damages
Not all damages can be easily converted into a simple financial figure. We will use expert testimony to place an economic value on things like pain and suffering, mental anguish, loss of capacity to enjoy life, loss of consortium, etc.
Punitive Damages
In some situations, the courts may feel that the actions of the at-fault party were especially reckless or even motivated by malice. In these cases, punitive damages may be applied for the sole purpose of punishing the at-fault party. It is critical to have a Sandy Springs motorcycle accident lawyer by your side.
Why Was My Motorcycle Accident Claim Denied?
There are many reasons an insurance company will deny your claim. Some of the most common reasons for this include:
The policy was canceled or lapsed — If you are late in paying your premiums, or haven't renewed your policy, your claim is considered void by the claims adjusters.
The driver was not insured under the policy — Unless specifically named in the insurance policy — or the spouse of the policyholder— the driver of the vehicle will not be covered by the insurance provider.
They believe the accident was your fault — The claims adjuster may challenge your claim for compensation if they believe you are responsible for the accident. This is where a seasoned motorcycle Sandy Springs motorcycle accident lawyer can help clear up any confusion.
They don't believe you were hurt — You need medical documentation as proof of your injuries. If you don't seek treatment immediately, the insurance company could argue that you weren't as seriously injured as you claim.
They don't believe your injuries were caused by the accident — You will need a medical examination from a licensed medical professional to prove that the injuries you sustained were related to the accident. Otherwise, the insurance providers may claim you were hurt in another way.
If your claim has been denied, don't panic. Denying claims is standard procedure in the insurance industry as a way to protect their interests. But call our Sandy Springs motorcycle accident lawyers and we will tell you if you have a case and can move forward with filing a lawsuit.
Call Our Skilled Motorcycle Accident Lawyers in Sandy Springs, GA!
Injuries sustained in a motorcycle accident can be more serious than you initially assume. Make sure you seek medical advice in the aftermath of a motorcycle accident in Sandy Spring, GA.
Then call 678-503-2780 and arrange a FREE consultation with our experienced team of Sandy Springs motorcycle accident lawyers at Diaz & Gaeta. We will place our skills, experience, and resources at your disposal to get you the compensation you need to make a full recovery.