A car accident has the potential to change your life in a matter of seconds. You can suffer serious injuries that require extensive care or perhaps even surgery. You deserve to be compensated for your injuries and losses.
If you or a loved one has been recently injured in a car accident, you should get in touch with experienced Atlanta car accident lawyers to help you recover the compensation you are entitled to. Fortunately, that's exactly what we do here at Diaz & Gaeta in Atlanta, GA.
Call our office today at 678-503-2780 to schedule your free consultation with an experienced Atlanta personal injury lawyer.
Car Accident Statistics
A total of 1,664 traffic fatalities were reported in Georgia in 2020, which was higher than 2019's 1,491. Of the 2020 cases, speeding-related fatalities stood at 380 while the alcohol-impaired fatalities stood at 402.
How Much Does an Atlanta Car Accident Lawyer Cost?
Car accident lawyers in Atlanta usually work on a contingency fee basis. This means that you don't have to pay for the lawyer's services unless they win your case. If they do win, their payment will come directly from the verdict or settlement they win on your behalf.
What Should I Do After a Car Accident?
If you have been involved in an auto accident in Atlanta, GA, you should do the following:
Contact Police
Georgia law requires you to call the police after an accident resulting in injury, death, or property damage that exceeds $500, which is most accidents nowadays. Once the police arrive, explain the facts about what happened and describe your injuries in detail.
Check on Other Involved Parties
You should also ensure the safety of all parties involved in the accident and provide medical care to those that need it or call an ambulance. Never leave the accident scene, no matter how minor it is. Stay at the scene until when released by law enforcement.
Exchange Information
For each and every accident, no matter how minor it might appear to be at the time, you need to exchange the following information with other parties involved in the accident, to save both time and money down the line:
Full Legal Name
Address
Phone Number
Vehicle Owner Information
Driver's License Number
Policy Number
Insurance Company
Record the Scene
Use your phone to take pictures of the accident scene including all the vehicles involved from different angles to provide a critical piece of evidence that's indisputable by an insurance company. You should also take pictures of your injuries.
Never Admit Fault
You must never admit fault or even attempt to apologize for the accident since whatever you say can be used against you when it comes to pursuing a claim for compensation. You should also avoid posting about the accident on social media.
Seek Medical Attention
Seek medical attention right away even if you aren't sure if you are hurt. Some injuries don't present themselves immediately, and you may have hidden internal injuries. Furthermore, a doctor's report provides valuable evidence when it comes to pursuing compensation for your injuries.
Call a Car Accident Lawyer!
A car accident lawyer such as those at Diaz & Gaeta in Atlanta, GA can help you protect your future by giving you the right advice about handling the claims process. Your lawyer will fight for the best possible outcome for you and ensure that you have all you need to get past the ordeal.
What Is the Average Settlement for a Car Accident?
No average settlement exists. Your settlement will depend on several different elements, such as the facts of your case, the severity of the injuries sustained in the accident, as well as how long they will impact your life, which are all unique. Our lawyers, however, can review your case to give you an accurate evaluation of its worth.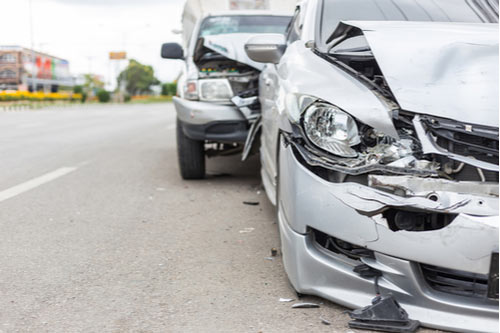 When Should I Get a Lawyer for My Auto Accident?
Not all accidents require the assistance of a lawyer. However, it can be a good idea to contact a lawyer if:
You sustained serious injuries in the accident.
It isn't clear who was at fault for the accident.
The insurance company tries to deny or minimize your claim.
You are not sure how much your claim is worth.
You need to negotiate for the settlement you deserve.
Another driver is blaming you for the accident.
Why Do I Need a Atlanta Car Accident Lawyer?
You need an Atlanta car accident lawyer to help with the following:
Case Preparation/Filing a Lawsuit
Your lawyer will first investigate your accident and review the information obtained from the investigation to create a claim that will serve as the basis for your lawsuit. It will state your injury and damages, the other driver's alleged negligent behavior, and request compensation.
Settlement Negotiation
Your lawyer will first calculate a reasonable value for compensation, and then negotiate a favorable settlement offer, which requires having experience. This is one of the most important reasons why you need to hire a lawyer.
Trial Preparation & Representation
If settlement negotiations fail, your lawyer can take the case to court where it will be up to a jury to determine whether or not you are eligible for financial compensation. However, your lawyer will present the strongest case possible to increase your chances of a favorable verdict.
How Much Can I Expect to Receive for My Damages?
Determining the amount of damages following a car accident might seem straightforward, but nothing could be further from the truth. For help with determining the full value of your damages after a car accident, please call Diaz & Gaeta in Atlanta, GA at 678-503-2780.
What Types of Damages Can I Recover?
If you have been involved in a car accident in Atlanta, GA, you can claim several types of damages. There are three categories of damages in a car accident case.
Economic
Economic or special damages are awarded to provide financial compensation to the injured party for the injuries and losses suffered in the car accident. They are the quantifiable out-of-pocket expenses suffered in an accident. They include but aren't limited to:
Past and future medical expenses
Lost wages and loss of earning capacity
Repair and replacement of damaged property
Funeral expenses after a wrongful death
Non-Economic
Non-economic or general damages provide compensation for the non-monetary losses suffered by auto accident victims. There's no formula for calculating non-economic damages, which can make it difficult to determine their value. Examples include but aren't limited to:
Loss of companionship
Pain and suffering
Physical impairment
Mental anguish
Physical disfigurement
Punitive
If a motorist's actions leading up to, during, or after a car accident were considered intentional or so reckless that they deserve to be punished by more than simply compensating the victims, the court can order punitive damages. Wrongful behavior that may call for punitive damages includes drunk driving, excessive speeding, and knowingly driving an unsafe vehicle.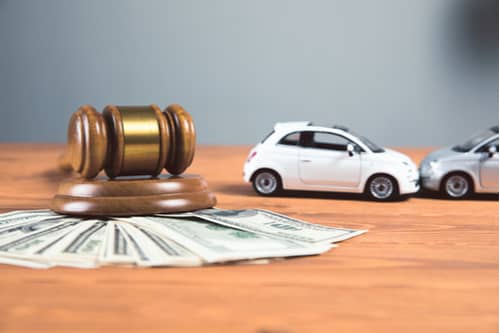 How Is Fault Determined in a Georgia Car Accident Case?
To determine fault in a car accident case, you must first prove the at-fault party's negligence, which in turn requires proving the following 4 elements:
Duty of Care
The at-fault party must have some kind of duty to keep you and others safe. All drivers are legally obligated to obey traffic laws and drive carefully.
Breach of Duty
You will then have to show that the at-fault party didn't uphold that responsibility. This is what proves negligence on the part of the defendant. For instance, you can do this by showing that a driver ignored the speed limits or a property owner skipped necessary maintenance.
Causation
You will then need to prove that your injuries were caused by the accident and directly resulted from the at-fault party's negligence. You need to seek medical attention as soon as possible after the accident to establish this.
Damages
The breach of duty of care and the associated accident must result in actual and not speculative injuries, losses, and damages. A driver that causes an accident cannot be held responsible for any speculative losses.
Our Atlanta car accident lawyers at Diaz & Gaeta can help you prove each of these 4 elements of negligence so that you can recover the maximum possible compensation after your car accident. Call us today at 678-503-2780 to schedule a free, no-obligation consultation and case evaluation.
How Long Do I Have to File a Claim?
The time limit for filing a car accident claim or lawsuit in Georgia generally depends on the particulars of your case. The limit is 2 years from the date of the accident to file a personal injury claim and 4 years to file a property damage claim.
How Can a Lawyer Help Me File My Insurance Claim?
If you want to obtain a settlement after a car accident, you need to consider the process:
Filing a Claim: You should file a claim with the at-fault driver's insurance provider.
Investigation: The at-fault driver's insurance company will then investigate the accident.
Approval or Denial: The insurance company will either approve or deny coverage for the claim after completing its investigation.
Settlement: If your insurance claim is approved, you will receive an initial settlement offer.
Denial: If your insurance claim is denied, you need to contact a car accident lawyer.
Settlement Negotiation: Negotiating a settlement with the insurance company can be intimidating and difficult, but a lawyer can help with this.
Finalizing a Settlement: If your lawyer and the insurance company come to an agreement on a settlement amount, the settlement can be finalized.
Lawsuit: If settlement negotiations fail, it might be in your best interest to file a lawsuit. Fortunately, a lawyer can help with this.
What Can I Do if Insurance Denied My Claim?
If the insurance company denied your claim, regardless of how valid you believe it is, you will likely need to hire a lawyer to help you fight the denial. Your lawyer will first draft a demand letter, which is essentially a formal claim for compensation. Your lawyer can also negotiate a settlement using the insurance company's formal appeals process. If all else fails, you can file a lawsuit against the insurance company.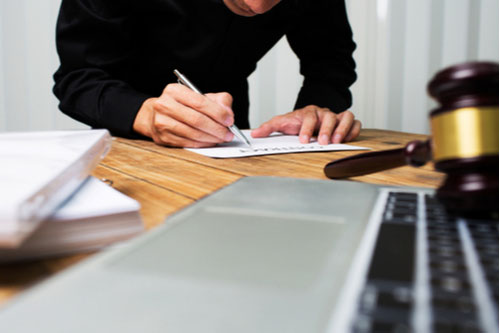 Do I Have a Case?
Under Georgia law, car accident victims have the right to file a lawsuit against the person at-fault for causing the accident. However, you can only do so if the person was negligent as explained above. You likely have a valid case if you can prove all the 4 elements of negligence as explained above. Our car accident lawyers at Diaz & Gaeta can help you determine if you have a case and recover compensation.
What if the Other Driver Doesn't Have Insurance?
If the other driver doesn't have insurance, you can recover compensation from your own insurance company if your insurance policy has an uninsured driver rider. Alternatively, you can sue the driver to get the compensation you need. Talk to our lawyers about the best option for you.
How Can I Obtain a Copy of the Accident Report?
To obtain a copy of the accident report, you can either visit the Central Records Unit of the Atlanta Police Department if you wish to pick it up in person and pay $5.00. Alternatively, you can get it online at BuyCrash.com, which is a service that contracts with the Georgia Department of Transportation.
Injured in a Car Accident in Atlanta? We Can Help!
Car accidents are usually shocking and traumatic events that often leave victims feeling uncertain and overwhelmed. If you were the victim of a car accident in Atlanta, GA, or its surroundings, you need help.
Finding your way through the Georgia laws and recovering compensation for your injuries and losses isn't easy. Fortunately, at Diaz & Gaeta, we have successfully done this for hundreds of clients such as yourself and can do it for you too.
Call us today at 678-503-2780 to schedule a free consultation! We will provide all the answers and assistance you need.