Being in a bicycle accident is a difficult experience and it can bring along with it major injuries. You will want to be aware of your legal options to ensure everything is done to receive appropriate compensation during the legal process.
In a situation such as this, it's best to reach out to a Marietta bicycle accident lawyer at Diaz & Gaeta for your needs. We are fully trained to handle these rigorous requirements and that is what sets us apart. To set up a free consultation with our Marietta auto accident lawyers, please take the time to call us at 678-329-9084.
How Does Fault Get Determined in Bicycle Accidents in Georgia?
When "fault" is being determined in a bike accident, it is important to demonstrate which party caused the accident. The negligent party is going to be seen as at-fault in a legal situation such as this.
However, it is important to note that Georgia uses the modified comparative negligence rule. So you may not receive 100% compensation depending on what took place.
For example, if the driver is seen as being 60% at fault for the bicycle accident, they will have to only pay 60% of the total compensation to you. This is important information to keep in mind when a bicycle accident takes place. A lawyer will go through these details with you to make sure you are aware of your options.
What Should I Do After a Bicycle Accident?
Being involved in a bicycle accident can cause extensive injuries and steep financial losses. If you or a loved one finds themselves in a bicycle accident, use the following steps as a guide on what to do:
Contact the Police
Reaching out to the police has to be the first thing on your mind. The goal is to have law enforcement take a look at what occurred and file a police report on the matter. This will save you a lot of time in court as a third-party view of the accident holds sway.
The judge is going to want to see this report and it will also ensure all of the details are written clearly. It becomes much harder to prove your case later when the memory fades and you forget about the little details surrounding the accident.
Exchange Info
You will always want to exchange contact information with those at the scene. This not only includes the other party in the accident but also eyewitnesses. Their testimony can be useful when you are not at fault and want to get all of the details out.
If you have their information, it is easier to reach out to them later. Take the time to tap into this and make sure you are trending in the right direction. This is key information that will make your life easier later in the legal process.
Record the Scene
Have you taken the time to record the scene and take visual evidence? It is important to go through these details as best as you can. Otherwise, you are not going to have visual proof of what occurred and that makes things tougher on you.
If you want to take a look at the scene, it is best to take photos and/or make videos. This is a great visual representation to have and will ensure you can build a strong case against the other party when it is time to show who was at fault.
Never Admit Fault
This is the last thing you are going to want to do in a situation such as this. It is easy to get swayed into stating you were at fault even if you weren't. This is why it is important to stay quiet during this process and let the legal situation unfold on its own.
You are not going to want to admit fault and it is best to go through the steps mentioned here. These steps are going to help with your court case and ensure it works out as you want it to.
Seek Medical Attention
It is common to only look at what occurred during the bicycle accident and forget about your health. This is not a good idea because your health is most important during this time. Getting checked up is a must even if you are not noticing severe symptoms.
Sometimes, the symptoms can come later, which is why getting checked out right now will save your life. It is also a good way to have a medical record of the accident on hand. This can be useful when you want to show how the injury was caused by the bicycle accident. Taking advantage of this is a must if you want to do things the right way.
Call a Marietta Bicycle Accident Lawyer!
You should always look to consult with a legal professional in a situation such as this. If you don't, you are not going to see good results at all. Call a car accident lawyer and make sure you are going with someone passionate about matters such as these.
We are one of the best law firms in the state and will make sure things are done properly. To get started with Diaz & Gaeta, please take the time to consult with us at 678-329-9084. We will set up the appointment and go through the details with you immediately.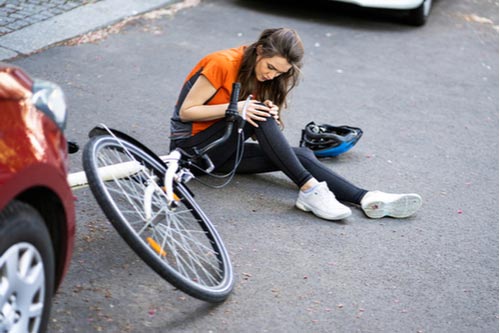 What Types of Damages Can You Recover from a Bicycle Accident Claim?
When it is time to move forward with a bicycle accident claim, you will want to ensure all of the necessary damages are cited. You can focus on the economic damages such as the cost of repairing your bike, medical fees, prescription fees, and lost income if you are unable to work.
You can also look at citing non-economic damages such as pain and suffering, emotional distress, and how the accident has impacted your quality of life moving forward. This is a common issue among those who are dealing with severe injuries or a disability.
Punitive damages are reserved for rare cases where the at-fault party is found to have acted with the intention to cause harm, extreme negligence, or a reckless disregard for others' safety.
How Much Time Do I Have to File a Claim?
When you are looking to file a legal claim in a situation such as this, you are going to have two years from the time of the bike accident. The timer is going to start as soon as the accident takes place.
At Diaz & Gaeta, we believe there is no reason to wait, and getting out in front of this is a must. The sooner you do this, the clearer everything is going to be. It will help secure the evidence and make sure a strong, relevant case is built on your behalf.
How Much Will a Bike Accident Lawyer Cost?
When you are looking at going with a good bike accident lawyer, you will want to know how costly it is going to be.
We realize you don't want to worry about legal fees at a time like this, which is why we only work with a contingency fee. This means we only get paid when we secure a settlement or a positive verdict for you.
We then take a small percentage of the compensation you receive and this percentage is pre-decided during the initial consultation.
Why Do I Need a Lawyer?
Hiring an experienced and skilled Marietta bicycle accident lawyer will ensure that you receive the best help and most compensation for your damages. A few reasons why you should hire a lawyer are:
Case Preparation/Filing a Lawsuit
The preparation process is one of the most important steps to consider. You will want to ensure things are prepared the way they need to be.
At Diaz & Gaeta, we are going to help shape the case and make sure everything is ironed out. This is a great way to feel in control of the process and know you are trending in the right direction. We will then put together the legal claim and ensure it is filed on time.
Settlement Negotiation
Having a good lawyer is a must and sometimes it comes down to negotiating on your behalf. The other party might decide he/she does not want to go to court and would like to focus on a settlement beforehand. If that is the case, Diaz & Gaeta can help with this part of the legal process too.
Trial Preparation & Representation
In some situations, settlement negotiations aren't successful. At Diaz & Gaeta, we have a legal team that is well-equipped and ready to fight for you in court if needed. Take the time to reach out to us at 678-329-9084 for more information on how we can represent you.
Injured in a Bike Accident in Marietta? We Can Help!
Being in a bicycle accident is a difficult experience and it can bring along with it major injuries. Having a skilled lawyer on your side is crucial to securing the compensation that you deserve.
With this in mind, it is always best to consult with an experienced Marietta bicycle accident lawyer. At Diaz & Gaeta, we are a law firm that has represented bicycle clients in the past and will know what to do in Georgia.
To schedule a free case evaluation and consultation with our personal injury lawyers, please take the time to give us a call at 678-329-9084. We will ensure things are done efficiently from the word go.