Driving over the speed limit is one of the most dangerous acts that a motorist can engage in. For the past two decades, speeding has been a key factor in more than one-third of all road traffic deaths. The force of impact in a high-speed collision significantly increases the risk of serious injuries and death.
If you've been injured or lost a loved one in a crash caused by a speeding driver, you deserve financial compensation for your injuries and losses. Our Marietta speeding accident lawyers at Diaz & Gaeta have years of experience fighting for the rights of speeding accident victims.
We will use everything in our power to help you secure a favorable settlement or verdict. Though monetary compensation won't reverse the damage caused, it will provide you and your family with the resources you need to recover and regain your life.
Get in touch with our Marietta car accident lawyers today at 678-329-9084 to schedule a free consultation.
How Speeding Increases the Risks of Causing an Accident
You are already aware that driving at excessive speeds is highly dangerous and destructive. However, what you may not realize is that driving at relatively lower speeds but exceeding the allowed speed limit can also be extremely risky.
Speed limits are not just random numbers. It takes engineering research to determine the maximum speed at which motorists can safely travel on a given road section in ideal conditions. In unfavorable conditions, drivers are expected to drive at even lower speeds to minimize the risk of an accident. Essentially, speeding is driving at speeds above the allowed speed limit or driving too fast for the prevailing conditions.
Here's how exceeding the posted speed limits increases the risk of an accident:
It makes it much easier to lose control of the vehicle.
It increases the stopping time and distance required.
It reduces the efficacy of safety equipment like airbags and seatbelts.
It makes it more difficult to stop in time to avoid an accident.
It increases the risk of a serious crash in the event of an accident.
In short, speeding significantly increases the risk of an accident as well as the severity of the accident.
How Can I Prove That the Other Motorist Was Speeding When They Hit Me?
To be able to recover damages in your claim, you need to prove negligence and liability. If you have been injured or lost a loved one as a result of a speeding accident, you need to prove that the other driver was speeding at the time of the accident and that their speeding was what led to the accident.
This can be difficult to prove and it often requires a thorough investigation into the accident. Our Marietta speeding accident attorneys will leave no stone unturned in their investigations and will gather all the crucial evidence to prove your claims. To help to prove that the other driver was speeding, our attorneys will check the following:
Whether the at-fault driver was issued a speeding ticket
The official accident report from the police
The scene of the accident for skid marks on the road
Footage from traffic cameras and nearby building surveillance systems
Data from the other driver's "black box"
Expert testimony from professional accident reconstructionists
Witness statements as well as statements from the at-fault driver that may prove admittance of fault
After a thorough investigation, our attorneys will be able to bring together all the facts and evidence to support your claims.
What Is the Deadline for Filing a Speeding Car Accident Claim in Georgia?
The statute of limitations for car accidents in the state of Georgia is two years. This means that if you are harmed in a speeding accident, you have two years from the date of the accident to take legal action against the other driver. If this time window lapses, you will permanently lose your right to pursue compensation.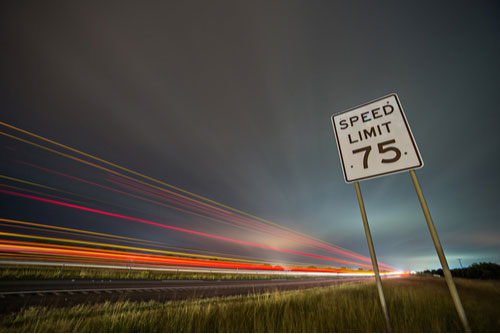 Why Do I Need a Lawyer?
Here is how our expert team of attorneys can help your case:
Case Preparation
We will start by evaluating your case and determining whether you have a valid case. We will then conduct a thorough investigation, collecting all the necessary evidence to prove negligence and liability as well as the extent of your damages. We will also ensure that your claim is filed properly and within the set deadlines.
Handling Negotiations
Insurance companies have no problem taking advantage of car accident victims to protect their own interests. They will be actively looking for ways to deny your claim or compel you to accept a low-ball offer. An attorney will help prevent this from happening.
Attorneys know the tactics used by insurance companies to deceive victims and they also know how much your case is worth. Our attorneys will draw on their excellent negotiation skills to secure a favorable settlement agreement.
Trial Preparation & Representation
If the insurance company doesn't agree to reach a fair compensation award, your attorney will proceed to bring your case to trial, where it's up to the jury to establish whether or not you are eligible for compensation. Your attorney will work to present the strongest case possible backed by compelling evidence to raise your chances of getting a favorable outcome.
How Much Will a Marietta Speeding Accident Lawyer Cost?
This is perhaps the most common reason why most car accident victims fail to seek the legal assistance that they need. Granted, lawyers are known to be expensive. However, our personal injury attorneys at Diaz & Gaeta offer their services on a contingency basis.
This means that you don't pay anything until we've secured a fair settlement or verdict. Payment is in the form of a small agreed-upon percentage from the compensation amount – meaning that you don't actually spend any of your money.
Got caught street racing? Diaz and Gaeta can help. 11 Alive News spoke to them about a case they were able to dismiss.
Get the Legal Help You Need Today!
A speeding accident can leave you with serious and catastrophic injuries, which can impact you for the rest of your life. Besides dealing with expensive medical bills, lost income, and other negative consequences, you may have to deal with intense pain and suffering. As an innocent victim, you shouldn't have to suffer the consequences of another person's negligent or reckless actions on your own.
At Diaz & Gaeta, we believe that you deserve justice and the full financial compensation that you deserve to protect your financial future and help you to better cope with your new situation. Give us a call today at 678-329-9084 to schedule a free consultation with a Marietta speeding accident lawyer. Remember, we offer our services on a contingency basis – you have nothing to lose!