As most people already know, LGBT is an umbrella term that means lesbian, gay, bisexual, and transgender. For those who identify with the LGBT community, getting legal representation can sometimes prove to be a tall order.
Since the validation of gay marriages by the Supreme Court, same-sex couples face the same challenges and enjoy the same rights as other married couples. At Diaz & Gaeta, we are committed to helping LGBT individuals and couples in Smyrna and throughout Georgia.
If you are a member of the LGBT community and you need a lawyer, you can count on Diaz & Gaeta. Call 678-329-9084 or use our contact form to schedule a free consultation with one of our seasoned and compassionate attorneys.
Rights of the LGBT Community in Georgia
Here are important rights of the LGBT community in Georgia.
Sexual Activity for Same-Sex individuals in Georgia: Consensual sexual activity between persons of the same sex is legal.
LGBT Marriage: Same-sex marriage has been recognized since a Supreme Court ruling in 2015.
Adoption: Married same-sex couples have the same rights, including stepparent adoption and joint adoption for married same-sex couples.
Right to Change Legal Gender: Georgia allows transgender people to change their gender on their birth certificate and driver's license following surgery.
LGBT Discrimination: Georgia has no state law banning LGBT discrimination, but the US Supreme Court has ruled that employment discrimination based on sexual orientation and gender identity is illegal.
Equal Age of Consent: The age of consent for both homosexual and heterosexual sex in Georgia is 16.
Hate Crime Bill: Georgia's hate crimes law explicitly includes sexual orientation.
What Types of Cases Can Diaz & Gaeta Help Me With?
Boasting experience in numerous fields of the law, the attorneys at Diaz & Gaeta are expert litigators. We have defended and won many different cases across courts in Georgia. Our team can help LGBT clients with a range of issues, including LGBT marriage visa, K-1 fiance(e) visa, asylum, green card benefits, U.S. citizenship naturalization, and withholding of removal.
We also help with cases involving personal injury, car accidents, criminal charges, drug possession, DUI, and other felony and misdemeanor offenses.
clients dealing with divorce, family law, child support, custody litigation, restraining order, and alimony can count on us too!
Here is a breakdown of the LGBT legal services we offer:
Immigration
Our LGBT attorneys are experts in family-based immigration work and deportation defense. We specialize in DACA (Deferred Action for Childhood Arrivals) and renewals. Our firm has represented LGBT clients in federal immigration courts all over Georgia and numerous USCIS (United States Citizenship and Immigration Services) proceedings.
We assist families from all over the globe to attain a status in the United States. We do not back down from any case, however challenging. Even if other attorneys have turned them down or immigration shot them down, our experienced lawyers will find a solution.
K-1 Fiance(e) Visa
Diaz & Gaeta help LGBT Georgia residents bring their foreign fiancées to the United States through K-1 fiancée visa applications. This type of visa lets foreign nationals enter the U.S and wed their fiancée within 90 days. Applicants must also apply for adjustment of status.
The U.S. Consulate in the fiancée's country of residence makes decisions on fiancée visas. Since these consulate decisions are tough to appeal once denied, you want to present your strongest visa application.
We can help you prepare a strong application and handle issues like short relationship history and significant age differences.
U.S. Citizenship Naturalization
Diaz & Gaeta can help LGBT clients who are already lawful permanent residents become U.S. Citizens through naturalization. We will assess your immigration and criminal history to establish if you are eligible.
We will then help you put together a strong application for naturalization and get you up to speed for your interview.
If you are considering naturalization, working with an immigration attorney is crucial to maximizing your application's chances. Also, working with an LGBT attorney will ensure you don't jeopardize your lawful permanent residence status.
LGBT Marriage Visa
Georgia LGBT attorneys at Diaz & Gaeta help LGBT foreigners married to U.S. citizens become lawful permanent residents based on their marriage.
Since marriage to a U.S. citizen is one of the fastest ways to get a green card, the process involves a lot of scrutiny.
If you are thinking about marrying a U.S. citizen or have already wedded a U.S. citizen, feel free to contact us to discuss your options for obtaining an LGBT marriage visa.
Green Card Benefits
A green card grants you lawful permanent residence in the U.S. This means you can work and live where you please in the United States. Our attorneys can help you apply for a green card. We will help you fill out all the necessary paperwork and ensure you present all the supporting documents.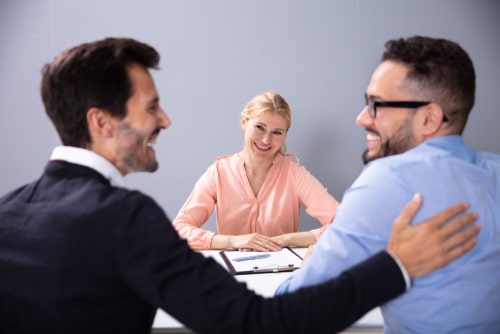 Asylum
If you identify with the LGBT community and have been harmed or have well-found fear that you will be harmed or killed in your home country because of your gender identity or sexual orientation, Diaz & Gaeta can help you obtain LGBT asylum.
Our attorneys can help you get asylum by proving that you were harmed or on the brink of being harmed or killed.
Withholding of Removal
For LGBT asylum seekers in removal proceedings, our attorneys can stop the deportation as long as the asylum seeker is eligible for Withholding of Removal. We can help prove your life or freedoms would be threatened because of your gender identity, sexual orientation, religion, etc.
Criminal Charges
At Diaz & Gaeta, we also specialize in providing aggressive criminal defense services to LGBT clients battling criminal cases such as violent crimes, DUI, drug possession, and other felony and misdemeanor offenses.
Guilty or innocent, our lawyers will fight to protect your freedom, rights, and future.
Personal Injury
We help LGBT clients with personal injury cases and protect them from exploitative insurance companies. Our attorneys take away the stress by handling all the processes and ensuring you get the compensation you deserve.
Car Accidents
Whether you are partly at fault or not, if you get into a car crash, call us immediately. We can help you and your passengers secure compensation for current and future damages associated with the accident.
Family Law
We offer legal services to LGBT clients who require counsel and legal representation in family law cases, including divorce, custody litigation, child support, restraining order, alimony, and domestic violence.
We understand that sometimes gay or lesbian spouses may come out after they are already in opposite-sex marriages. This could pose challenges leading to an opposite-sex divorce. We have assisted gay and lesbian Georgia residents with divorce and other family law-related disputes.
With Georgia having a harsh legal system for gays and lesbians in divorce proceedings, You will most likely need an experienced and trusted advisor. We are ready to battle it out to the end to ensure you get a fair and equitable ruling and/or settlement.
Why Are Diaz & Gaeta the Best Lawyers for Cases Involving the LGBT Community?
Here are some key reasons to choose our Smyrna LGBT lawyers to handle your case:
Experience
Our seasoned LGBT lawyers have loads of experience in numerous fields of the law. We work together to tackle complex cases.
Reasonable Prices
When it comes to pricing, Diaz & Gaeta are transparent. We offer fair and honest prices with a free consultation.
Track Record
We have an impeccable track record when it comes to cases. Our track record speaks for itself when it comes to cases that other attorneys have turned away.
Call Our Smyrna LGBT Lawyers Today!
Just like everyone else, gay, lesbian, bisexual, and transgender people can find themselves dealing with issues such as immigration, divorce, child custody, personal injury, or criminal charges. At Diaz & Gaeta, we are committed to helping LGBT individuals and couples in Smyrna and throughout Georgia.
We assure you that our understanding of the complications that come with LGBT cases will help us give you the right legal advice. Call us today at 678-329-9084 to schedule a free consultation.