When a motorcycle accident takes place, it can leave you wondering about the overall situation and how it is going to unfold. No one wants to be left dealing with extensive medical bills, repair bills, and prescription fees due to an accident.
This is why clients look towards choosing an Atlanta motorcycle accident lawyer who has their back in situations such as these. At Diaz & Gaeta, we know how important it is to represent a client and make sure things are done properly.
To learn more about how our Atlanta auto accident lawyers can help and get a free consultation, give us a quick call at 678-329-9084.
How Can a Motorcycle Accident Lawyer Help with My Compensation Claim?
When it is time to put in a compensation claim, you will want to know what the regulations are for such incidents. Most clients are going to be unaware of their legal rights and cannot fight properly when hoping to get a good result.
This is where an Atlanta motorcycle accident lawyer is going to come in handy. We are well-trained to work within situations such as these and will know how to fight for your rights moving forward. Here is an overview of how we can assist you.
We evaluate your losses and estimate the value of your case.
We investigate your accident, gather evidence, and file your claim.
We handle settlement negotiations with the insurance company and ensure you aren't tricked into accepting a low-ball offer.
We have the experience and skills to represent you in court if the insurance company won't pay you fairly.
To get started with Diaz & Gaeta, you will want to give us a call at 678-329-9084.
What Are the Most Common Causes of Motorcycle Accidents?
As you begin to look at what occurred during a motorcycle accident, you will likely deal with a situation that others do. This is due to the root cause of motorcycle accidents and how there are specific reasons for why this happens on the road.
You will want to go through these causes one by one to see which one applies to your situation. The main causes of motorcycle accidents include:
Distracted driving.
Failure to pay attention to motorcycles.
Impaired driving.
Malfunctioning mirrors, brakes, or lighting.
Unexpected pedestrians on the road.
As you can tell, the situation is going to vary. The best thing you can do is gain clarity by going through these main causes and pinpointing which one applies to your situation. We are willing to help with this process at Diaz & Gaeta. Give us a call at 678-329-9084 to begin the process.
Motorcycle Accident Statistics
Motorcycle accidents have been studied in great detail over the years and it often comes down to specific patterns that develop on the open roads of Atlanta. You will want to be aware of these accidents to better understand the situation you are in. This also includes your legal chances in a court of law.
These stats include:
42% of all motorcycle accidents occur on left turns.
77% of all motorcycle accidents hit head-on with vehicles.
23% of all motorcycle accidents hit a stationary object.
Go through these stats to better understand what took place in your situation. This will also help shed a light on what your options are going to be in court.
What Are the Motorcycle-Specific Laws in Georgia?
There are specific laws when it comes to motorcycles in Georgia. You are going to want to be aware of them and what your legal rights are. These laws can include:
Riders are not allowed to share lanes or travel in between cars and trucks on the road.
Motorcycles can travel side by side in a single lane, but only 2 per lane.
You must wear protective eyewear or have a windshield on your motorcycle.
The rider must be wearing a helmet.
Passengers are only allowed on motorcycles specifically designed to carry more than one rider.
As you can tell, there are strict regulations in place and these will be used to determine whether or not you were at fault during the accident. Let a professional help out at Diaz & Gaeta to make sure you are being represented fairly.
What Are the Most Common Injuries Seen in Motorcycle Accidents?
Dealing with an accident such as this means you are going to be facing significant injuries. It is common for those on motorcycles to get injured severely since there is no additional protection as one would have in a car or truck.
These can include:
It is important to receive medical attention when you have been in an accident such as this one. It will save you a lot of time and you are going to see appropriate results. With our help at Diaz & Gaeta, you can begin to understand what your legal options are. This includes giving us a call at 678-329-9084 for more information.
How Is Fault Determined in an Atlanta Motorcycle Accident?
Being in an accident, it is important to know how fault is considered. You will want to make sure the right approach is taken and you are well aware of what your options are.
At Diaz & Gaeta, we are going to help you with this by recognizing what the legal stipulations are. Georgia follows the modified comparative negligence system. This means that your compensation depends on the percentage of fault a specific party had during the process.
If the other party had a 60% fault, they are going to pay 60% of the damages. You are only eligible for compensation if you are less than 50% at fault.
This is going to be determined by the judge and how the legal proceedings unfold. You will want to take the time to go through these details by understanding what is going to work for you moving forward. To learn more, give us a call at 678-329-9084.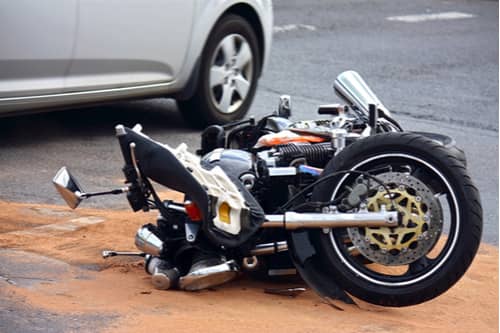 What Type of Compensation Can I Receive for My Motorcycle Accident?
There are three main types of compensation that can be awarded to victims of a motorcycle accident or any other type of personal injury. Our Atlanta motorcycle accident lawyers will go over your case to ensure that your claim covers all your losses.
Economic Damages
Economic damages are financial losses that can be calculated objectively. They typically include:
Past, present, and future medical expenses.
Lost earnings and earning potential.
Property loss, including any repairs or replacement.
Non-Economic Damages
Non-economic damages are compensation for losses that can't be calculated financially but have a major impact on your life.
Examples include:
Pain and suffering (past and future).
Emotional distress and mental anguish.
Physical impairment, disfigurement, and scarring.
Loss of consortium and/or companionship.
Punitive Damages
While rare, punitive damages can be awarded in motorcycle accident cases, especially if the actions of the defendant showed willful malice, misconduct, or indifference to the wellbeing of others or the consequences. Punitive damages are meant to punish the at-fault party and discourage them and the members of the public from such behavior in the future.
Why Was My Motorcycle Accident Claim Denied?
Let's assume you put in a motorcycle accident claim and then see it get declined. Is this a situation that has no way out leaving you with no compensation? You will have a way out but the first thing you are going to need to do is to look at why the claim was denied. You can then use this information to consult with a motorcycle accident lawyer.
The reasons can include:
The policy has expired or been canceled.
The driver is not insured under the existing policy.
The insurance company believes that the accident was your fault.
The insurance company claims that you were not hurt.
The insurance company is arguing that the accident did not cause your injuries.
A qualified attorney can help represent you with the insurance company. This will make your life easier and ensure you can focus on getting better.
Is There a Time Restriction to Filing a Claim in Georgia?
As you begin to go through the legal details of a situation such as this, you are going to wonder about what needs to be done and what the time limit is. For motorcycle accidents, you are going to have two years from the time of the accident. This means the claim has to be filed before the two-year mark is up.
If that is the time limit you are dealing with, you will want to consult with Diaz & Gaeta right away. We will go through the details with you and then put together a reliable legal claim that will work in your favor.
Call Our Atlanta Motorcycle Accident Lawyers Today!
It is easy to think you have run out of options and there is no respite from what has taken place. While it is not easy to recover after an accident such as this, you are still going to have options available to you from a legal perspective.
You can fight for compensation and receive it with the help of a trusted injury lawyer in Atlanta. Due to our experience, Diaz & Gaeta is one of the best options available to you moving forward. We are a phone call away at 678-329-9084 and will set up a free consultation appointment when you reach out to us.