Drivers that fail to pay attention to the road pose a danger to all road users and often cause accidents. In fact, distracted driving is one of the leading causes of auto accidents in Marietta, GA. Whether the driver responsible for your accident was on the phone or distracted by something else, you need to take the proper steps to protect your rights. You should contact a Marietta distracted driving lawyer right away.
If you have been injured in an auto accident caused by a distracted driver in Marietta, GA, Diaz & Gaeta will ensure that your rights are protected by helping you prepare and present a solid, compelling case proving the other driver's negligence and liability for your injuries and losses.
Call us today at 678-503-2780 to schedule a free, no-obligation consultation.
What Is Distracted Driving?
Distracted driving is defined as any activity that takes the attention of a driver away from operating their vehicle. It is a serious safety hazard that you can avoid by always keeping your attention on the road, pedestrians, other vehicles, and the controls in your own vehicle. It is your legal responsibility to avoid distractions while driving.
Types of Distracted Driving
Distracted driving is of 3 main types (visual, manual, and cognitive) that can all result in a major threat to the safety of drivers and all other road users. The following is a more detailed description of these main types of distracted driving:
Visual
Visual distractions are those that cause you to take your eyes off the road. Examples include activities such as checking your navigation system or GPS, looking to see what song is currently playing on the radio, and searching for temperature or mirror controls, or lost items on the floor of the vehicle.
Manual
Manual distractions, which are also referred to as physical distractions are those that cause you to take your hands off the steering wheel, such as checking the phone, smoking, adjusting the radio, eating, drinking, or setting a destination in your vehicle's navigation system. You need to always keep your hands on the wheel to safely operate your vehicle.
Cognitive
Cognitive distractions are those that take your concentration and focus away from driving. This could be anything from talking to other passengers in the vehicle to driving under the influence of drugs or alcohol to road rage. Stress and fatigue also play a role here.
Laws Regarding Distracted Driving in Georgia
Georgia has made distracted driving illegal with the Hands-Free Act that took effect in July of 2018. Under the law, distracted driving is defined as any activity while driving that distracts you from safely operating your vehicle.
What Is Considered Distracted Driving in Georgia?
Distracted driving as defined under the law in Georgia includes but isn't limited to one or more of the following:
Talking to other people in the vehicle
Texting while driving
Watching a video
Reading maps
Fussing with children in the backseat
Applying makeup or looking in the mirror
Adjusting the radio or music listening device
Eating or drinking while driving
Talking on a cellphone while driving.
Any of the activities above prevent a driver from paying full attention to the road when they are behind the wheel. It is quite evident, based on this list, that Georgia's law regarding distracted driving is broad and encompasses any activities that divert any of your attention from the act of driving.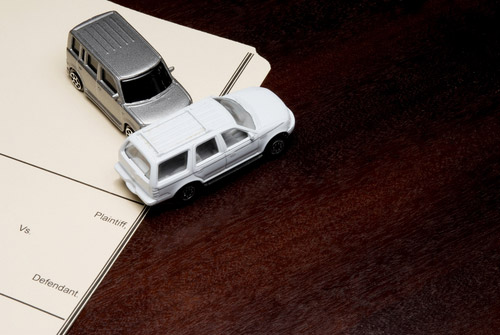 What Damages Can Victims Get from a Georgia Distracted Driving Accident Claim?
Distracted driving accident victims in Marietta, GA can pursue 3 types of damages with the help of our experienced lawyers at Diaz & Gaeta. They include economic, non-economic, and punitive damages:
Economic Damages
Economic damages are the compensation given for financial losses sustained by an injured party in a distracted driving accident. They include but aren't limited to lost wages and property damage as well as hospital bills and various other medical expenses.
Non-Economic Damages
These damages are the compensation given for the physical and emotional pain and suffering of a person injured in a distracted driving accident. They include but aren't limited to pain and suffering, disability, disfigurement, wrongful death, etc.
Punitive Damages
Punitive damages are typically awarded in rare instances where the defendant's actions were so reckless that they showed a wanton disregard for human life. They are intended to punish the defendant and serve as an example to discourage others from engaging in similar behavior.
How Much Time Do I Have to File a Compensation Claim in Georgia?
The statute of limitations for auto accidents in Georgia, including those that involve distracted driving is 2 years. This means you have a 2-year window starting from the accident date to file a claim against the at-fault party or their insurance provider.
Why Do I Need a Marietta Distracted Driving Lawyer?
Distracted driving usually leads to life-changing accidents and painful injuries. Don't attempt to handle your claim alone. At Diaz & Gaeta in Marietta, GA, you can trust us to handle the legal side of things. If you hire us, you can expect an auto accident lawyer who will:
Launch an investigation to determine what caused the accident.
Analyze evidence such as accident reports, witness statements, cell phone records, etc.
Stand up for you if the insurance company tries blaming you for the accident.
Work with experts and specialists to determine what your claim or case is worth.
Negotiate with the insurance company to ensure that you receive maximum compensation.
Represent you in court if settlement negotiations fail.
Injured in a Distracted Driving Accident in Marietta, GA? We Can Help!
Distracted driving is not only irresponsible and dangerous but also poses a serious hazard to all road users. At Diaz & Gaeta in Marietta, GA, we are committed to holding distracted drivers responsible for their actions.
Whether you have been injured or sustained property damage following a distracted driving accident, our personal injury lawyers will work diligently to provide you with the representation that you deserve.
Call us today at 678-503-2780 to schedule a free, no-obligation consultation and case evaluation with a Marietta distracted driving lawyer.