Citizenship is a major step in your life and can be full of complications. Pledging your allegiance to a new country is not something you should take lightly. With several complex steps to complete and forms to fill out, mistakes are a common issue that can lead to major problems in the immigration/naturalization process.
Having a professional immigration lawyer can be of great help to get you on the road to citizenship as easily as possible. If you are thinking about obtaining U.S. citizenship after being a legal permanent resident, the Smyrna immigration lawyers at Diaz & Gaeta can guide you through the entire process.
Call our Smryna, GA law firm today at 678-329-9084 to schedule a free consultation with an experienced lawyer.
What Is Naturalization?
Naturalization refers to the legal process through which a foreign national or citizen can become a citizen of the United States. To be naturalized, an applicant is required to first meet certain criteria to apply for citizenship.
Eligibility for Naturalization
The United States Citizenship and Immigration Services (USCIS) outlines the following eligibility requirements for the applicants for naturalization before they can apply to be citizens of the United States:
You must be at least 18 years of age.
You must have been a lawful permanent resident of the U.S. for at least 5 years prior to applying for naturalization.
You must have been physically present in the U.S. for a period of at least 5 years at the time of application.
You must be able to speak and understand English.
You must be of good moral standing.
If you meet the requirements above, you may apply for naturalization. The process for doing so is outlined briefly below.
What Is the Immigration/Naturalization Process?
The USCIS has provided a comprehensive naturalization eligibility worksheet for helping applicants determine if they are both legally and mentally qualified for citizenship. If you have any questions regarding any of the items on the worksheet, our Smyrna, GA immigration lawyers can guide you through the process.
The naturalization process itself is rather complex, but here's a brief outline of how it works:
You first complete the N-400 or citizenship application form and send it to USCIS along with a copy of your green card, the required photos, as well as a check for the processing fee. Our immigration lawyers at Diaz & Gaeta can help with the filing.
You will then be required to attend an in-person interview that may take up to several months to schedule depending on the backlog. The interview tests your basic understanding of U.S. history, your background and dedication to the U.S., and your English proficiency.
The next step is to schedule an appointment for biometrics at a local USCIS office. You will also be required to take a U.S. Oath of Allegiance to demonstrate your commitment to being a citizen of the United States.
Biometrics
Your biometrics will play an important role in the naturalization process and if you fail to follow the instructions concerning your appointment carefully you risk experiencing delays in the finalization of your citizenship. The USCIS has resources for helping you prepare for the biometrics appointment.
It starts with including 2 passport-sized profile photographs and completed fingerprints with the completed N-400 form at the time of filing. At the time of the appointment, you will be required to bring the appointment notice along with a valid form of photo ID.
What Is the Process of Legally Working in the United States?
If you are interested in legally working in the United States, you should consider obtaining either a temporary work visa or an employment-based green card. A variety of temporary work visas are available and each one will allow you to stay in the country for a specific amount of time.
Here are the different types of work visas that our Smyrna, GA immigration lawyers can help you apply for:
H-1B Visa
A H1-B visa allows companies in the United States to employ graduate-level international workers in positions and fields of expertise where there simply aren't enough workers in the United States. Leading companies such as Facebook, Google, and Apple, use this visa to hire some of their talents.
H-2 Visa
A H-2 visa is available to foreign workers in non-agricultural fields if there are not enough workers in the United States for those positions. The visas are generally used for seasonal jobs such as amusement parks, beach resorts, ski resorts, etc.
B-1 Visa
If you are required to travel to the U.S. for a short business trip, such as to negotiate a contract, settle an estate, or attend a conference, you could qualify for a B-1 visa. The initial period for staying in the country is about 1 to 6 months, but you can get an extension.
J-Visa
A J-visa is an exchange visitor visa that allows you to come to the U.S. as part of a cultural exchange process. It is generally available to doctors, au pairs, and professors. Employment is authorized as part of the exchange program terms.
L-1 Visa
A foreign-based employee, manager, and executive who has a specialized skill can sometimes be transferred to a subsidiary, affiliate, division, or parent branch of an international company in the U.S. The L-1 visa provides a work permit to the spouse of the transferred foreign worker.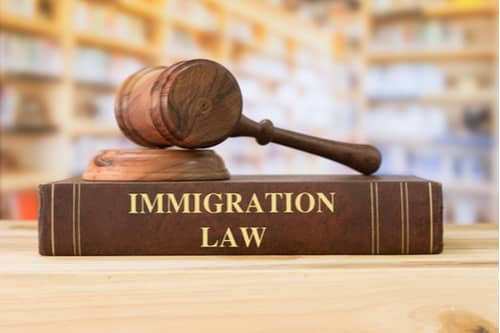 O-Visa
The O-visa is issued to foreign artists, educators, scientists, entertainers, athletes, and business people of extraordinary ability looking to come to the U.S. temporarily to work in their field of achievement.
O-1A visas are typically issued to athletes, educators, business people, or scientists. O-1B visas, on the other hand, are issued to performing, visual, and literally artists such as writers, photographers, directors, artists, actors, singers, etc.
P-Visa
The P-visa is issued to athletes, artists, and entertainers looking to perform or compete in the U.S. temporarily, either on a team or solo, at a specific event. P-2 visas are issued to entertainers and athletes participating in a reciprocal exchange program. P-3 visas, on the other hand, are issued to entertainers and artists that wish to teach, coach, perform, or share their talents in a cultural program.
R-Visa
The R-visa is issued to foreign religious workers looking to temporarily enter the U.S. A religious worker is considered a person that's continually engaged in an activity related to a traditional religious function, such as catechists, missionaries, religious translators, brothers, liturgical workers, cantors, monks, nuns, etc.
TN Visa
TN visas are available to skilled workers from Mexico and Canada under the North American Free Trade Agreement (NAFTA). TN visas permit citizens of Mexico and Canada to temporarily enter the U.S. to work in a NAFTA-approved occupation.
Obtaining a work visa that will allow you to legally work in the U.S, is a particularly complex process. Under the law, both the employer as well as the applicant are required to meet certain requirements as well as petition a number of government agencies.
Considering this complexity, the assistance of a knowledgeable immigration lawyer is highly recommended to be sure that all requirements have been met, evidence has been effectively presented, and no errors have been made that may cause delays or even denial.
Can Your Firm Represent Me in a Deportation Case?
Yes. We understand that the fear of being deported is one of the most stressful parts of life for many immigrants. Whether you have originally moved to the U.S. for work or to be close to your family, deportation can uproot your life.
Furthermore, defending yourself from deportation is not easy since immigration law is constantly changing. Fortunately, the experienced Smyrna immigration lawyers at Diaz & Gaeta know the current laws, and how to apply them to your case to build the strongest defense possible.
Why Should I Choose Diaz & Gaeta to Represent Me?
Immigration laws in the U.S. are not only complex but also constantly changing, which can make it difficult, if not impossible for immigrants to navigate the system. That's why you should hire our experienced immigration lawyers at Diaz & Gaeta to represent you.
Here are the top 3 reasons why you should consider hiring us:
Specialized Knowledge: Our Smyrna immigration lawyers have ample immigration law experience to help you come up with the best strategy for your case, increasing your chances for a positive outcome.
Dedication to Client Service: Our immigration lawyers always make it a priority to get the best possible outcomes for clients, taking every measure to meet the needs of their clients and obtaining the best possible outcome for each case.
Free Consultations: Naturalization, deportation, and removal are all legal processes that cost money. Our Smyrna, GA immigration law firm offers free evaluations, which allows you to ensure that we are the right lawyers for the job before you spend any of your money.
Need Help With an Immigration/Naturalization Issue? Call Us Today!
Successfully navigating the immigration/naturalization process in the U.S. requires a good understanding of the steps involved, as well as proper preparation at each stage to avoid unnecessary delays or even a denial.
If you are considering becoming a citizen of the United States through naturalization, you should contact the experienced Smyrna immigration lawyers at Diaz & Gaeta who will guide you through each step of the process. Call us today at 678-329-9084 to schedule your free appointment.