The popularity of rideshare services has skyrocketed over the last seven years. Passengers expect to be safe while using these services but accidents still occur.
Uber and Lyft have been involved in thousands of accidents with some even leading to death.
The survivors of these accidents are often left with expensive medical bills and lifelong injuries. Our Atlanta Uber accident lawyers work to help those survivors get the compensation that they deserve.
Our Atlanta firm strives to bring reliable and affordable legal services to anyone in need.
Our attorneys specialize in personal injury cases and have experience handling cases that involve rideshare companies.
At Diaz & Gaeta, we treat all of our clients like family. If you were injured in an Atlanta car accident involving a rideshare service, then you should contact our helpful staff as soon as possible.
Call us today at 678-329-9084 to receive a free case evaluation.
Uber and Lyft Accident Statistics
Companies like Uber and Lyft are not eager to share their accident statistics. They want the public to believe there is no risk involved with using their service but, unfortunately, that is not the case.
In 2017 and 2018, 108 deaths were linked to accidents involving an Uber driver. More than half of those deaths were a third party other than the driver or the rider of the vehicle.
Accidents are impossible to avoid entirely when more than 91 million customers use Uber each month. Many experts believe that these services have caused a significant increase in traffic fatalities.
More than 90 percent of these accidents occur in populated urban areas.
What Are the Most Common Types of Uber and Lyft Accidents?
Rideshare accidents can involve multiple parties as well as property damage to multiple vehicles. Our goal is to identify who is at fault for the accident and then seek compensation from the appropriate insurance company.
These are a few of the most common types of accidents that we deal with regularly:
Passenger injury caused by the negligence of their driver.
Passenger injury caused by the negligence of a rideshare driver in a different vehicle.
Passenger and/or driver injury caused by a faulty vehicle component.
Injury to a third-party caused by the negligence of an Uber or Lyft driver.
Driver injury caused by their own negligence.
Driver injury caused by the negligence of a different driver.
Property damage caused by the negligence of a rideshare driver.
Who Can Be Found Liable in an Uber Accident?
Our attorneys work tirelessly to determine who exactly is liable when an accident occurs. We do this by gathering as much evidence as possible relating to the incident.
This can include in-car footage, external camera footage, witness testimonies, and official reports. But who exactly can be considered liable in these cases?
The Uber or Lyft Driver
This is the most common solution. If the driver was acting negligently and caused an accident that resulted in injury, then he is responsible for providing compensation.
The driver is covered by an Uber insurance policy with a value that fluctuates depending on when the accident occurred. Lyft has a similar insurance policy for its drivers.
The Rideshare Companies
It is very rare for the companies themselves to be found liable for an accident. These companies do not technically employ drivers. Instead, they work as independent contractors.
Uber and Lyft use this separation to protect their companies from liability. However, cases against Uber and Lyft are not entirely unheard of.
A customer recently sued Uber for $63 million because they allowed a driver with a reckless driving history to drive an Uber and cause an accident.
Potential Third Parties
There are a few potential alternatives depending on the circumstances of the accidents. For example, a manufacturer may be found liable if one of their parts was responsible for the accident. If the accident was caused by poor road maintenance, then the organization responsible for the maintenance can be found liable.
Overall, proving liability is a difficult task that requires professional Atlanta Uber accident lawyers who have experience with these types of accidents. We need to show that the person responsible for the accident had a duty to act responsibly, they failed that duty, and that failure is what caused the injury.
We then negotiate with insurance companies to reach a settlement that reflects the victim's losses.
How Are Uber Accident Cases Different from Regular Car Accident Cases?
In many ways, these cases are handled the same as any other automobile accident. The major difference between a rideshare accident and any other automobile accident is the insurance involved.
There's also the added possibility of a large company being held liable for the injury. Otherwise, the case is handled similarly to other personal injury claims involving vehicles.
Does Uber Have a $1 Million Insurance Policy for Accidents?
Yes. Both Uber and Lyft have an insurance policy for accidents that caps at $1 million. However, these policies are only available during certain periods. Both companies separate rides into three periods.
The first period is the time when the app is off. During this period, the driver's personal insurance coverage applies.
The second period is when the driver has logged into their Uber app but has not accepted a ride from any customers. This period has limited coverage because the driver is not currently performing services for Uber.
The limits during this period are $50,000 of bodily injury coverage per person, $100,000 of bodily injury coverage per accident, and $25,000 for property damage coverage.
The third period is the time when the Uber driver is either picking up or driving passengers. During this period, the insurance policy provides $1 million in coverage. The same periods and coverage amounts apply to Lyft drivers as well.
A $1 million coverage amount is certainly helpful, but you can still expect them to fight against paying proper compensation. That's where the help of a skilled Uber accident attorney comes into play.
We will negotiate an adequate settlement or we will take the case to court and fight for your compensation there.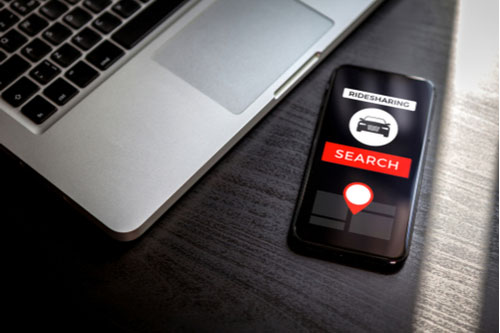 What Type of Compensation Can I Seek in an Uber Accident?
These are three main types of compensation that can be awarded to the victim of an Uber or other rideshare accident:
Economic Damages: These damages make up the bulk of most settlements. They cover financial losses such as lost income, medical bills, the cost of rehabilitation, and the cost of repairing property.
Non-Economic Damages: This compensation covers mental and emotional suffering caused by the accident. Common examples include pain and suffering and loss of enjoyment of life.
Punitive Damages: Defendants may be ordered to pay punitive damages on top of other damages as punishment. It must be shown that the responsible party behaved in a malicious or intentionally reckless way.
Should I Just Accept a Settlement Offer?
You should never accept a settlement without first talking to an Atlanta Uber accident lawyer. Insurance companies are notorious for offering low settlements to victims because it saves them money.
An attorney can negotiate with an insurance company on your behalf to ensure that they provide a settlement that adequately covers your losses. It is rarely going to be the first settlement offer you receive.
How Much Will an Atlanta Uber Accident Lawyer Cost?
We work personal injury cases according to a contingency fee. It's another reason why we will fight to get the best compensation possible. Our fees are taken as a small percentage of the settlement amount only after you have won your case.
If you don't receive a payment, then we don't either.
Are There Time Limits for Filing an Uber Accident Claim?
You will have 2 years from the date of the accident to file a personal injury claim for bodily injury. You have 4 years to file a claim for damage to your vehicle. We recommend pursuing your claim as soon as possible.
The quality and quantity of the available evidence will decrease over time. It is much easier to identify the liable party shortly after the accident.
Why Do I Need a Atlanta Uber accident Lawyer?
You may be wondering why hiring an Atlanta Uber accident lawyer would be beneficial to you. These are just a few of the ways in which we can help you:
Case Prep & Paperwork
Filing a lawsuit and preparing a case takes time and experience. If your accident was recent, then this is time that you can save to focus on recovering. Hiring an Atlanta Uber accident lawyer lawyer also ensures that everything is filed properly and on time so that your claim does not get denied.
Negotiations
Insurance companies want to pay clients as little as possible. It's how they stay so profitable. We won't let that happen. We understand the laws, the policy systems, and the extent of the damage.
We won't let our clients be taken advantage of.
Trial Prep & Representation
In rare cases, we are unable to reach a settlement agreement outside of court. The insurance companies simply won't agree to a fair settlement amount. But that's why it's good to have a Atlanta Uber accident lawyer on your side.
We can represent your claim in front of a judge and jury to ensure you get the right amount.
Injured in a Uber Accident? Call your Atlanta Uber accident lawyer today!
At Diaz & Gaeta, we're here to help the people of Atlanta get the compensation they are owed when injured. You are far more likely to get an acceptable settlement when you work alongside a personal injury lawyer.
We help file the claim, gather evidence, and negotiate a settlement.
All of our clients are like family and we do the best we can for our family. If you've been injured in a rideshare accident in the last two years, then we can help.
Give us a call at 678-329-9084 for your free case evaluation with our Atlanta injury lawyers.