No one deserves to lose a loved one because of another person or entity's negligence or malicious acts. The wrongful death of a family member can lead to severe implications ranging from the loss of financial support, loss of services, to an unexpected demand to cover costly medical expenses. Diaz & Gaeta Law helps you seek justice for wrongful death.
Death is likely to leave you in great shock and grief. You need time to overcome the grief and require expert representation by using a skillful personal injury lawyer. At Diaz & Gaeta Law, we understand that losing a loved one is a painful experience. Getting justice served for a wrongful death gives you a sense of relief though it never makes up for the death.
Our Diaz & Gaeta Law Marietta wrongful death lawyers have years of experience in wrongful death claims representation. Call us at 678-329-9084 for a free consultation today!
How is Wrongful Death Defined in the State of Georgia?
According to Georgia's wrongful death act, a wrongful death occurs when an individual dies due to the fault of another entity or person. These actions include:
Acts of negligence such as those involved in a car accident.
Use of a defective product
Intentional immoral acts such as murder
Medical malpractice
According to the law, the defendant's liability can only be expressed through financial compensation. Payment is made to the deceased survivors or estate.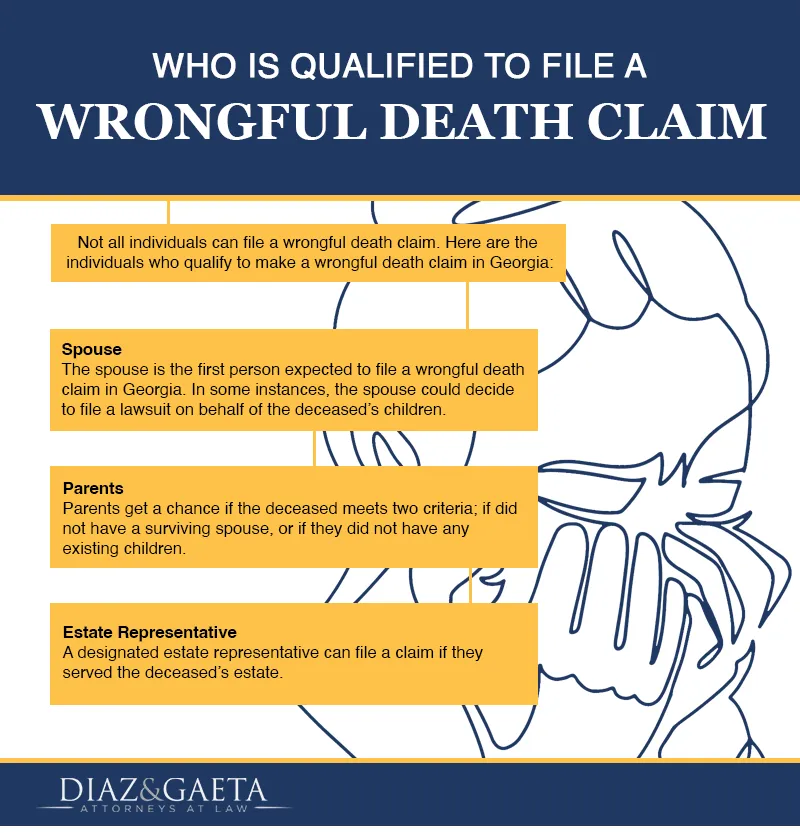 Who is Qualified to File a Wrongful Death Claim in Georgia?
Not all individuals can file a wrongful death claim. A skillful Marietta wrongful death attorney should guide you on eligibility. Here are the individuals who qualify to make a wrongful death claim in Georgia:
Spouse
The spouse is the first person expected to file a wrongful death claim in Georgia. In some instances, the spouse could decide to file a lawsuit on behalf of the deceased's children. It happens if the children are under the age of eighteen years. When the spouse claims on their behalf or the children, the law states that they are entitled to at least a third of the compensations received.
Parents
Parents get a chance if the deceased meets two criteria;
If they did not have any surviving spouse
If they did not have any existing children
Estate Representative
A designated estate representative can file a claim if they served the deceased's estate. The spouse is greatly prioritized in the compensation. If the deceased had no children with the deceased, the spouse gets full compensation. If the spouse had children with the deceased, the spouse gets half of the compensation, which is given to the children. If the deceased had grandchildren, they also share half of the compensation with the deceased's children.
If the decedent did not leave behind a spouse but had children and grandchildren, the recovered compensation is divided between the children and grandchildren. If the deceased happens to be a minor who neither had a spouse nor children, the compensation goes to the parents. If all the mentioned parties are not present, the compensation is shared among brothers and sisters.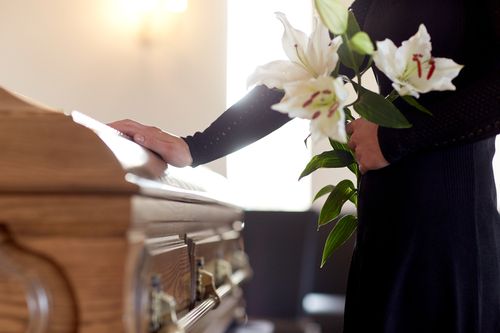 What Types of Damages Are Recoverable?
As you use the assistance of a Marietta wrongful death attorney, it is good to note that no amount of compensation can ever cover up the death of a loved one. However, Marietta's wrongful death attorneys help you get compensation to help you have an easy time taking care of the monetary and non-monetary losses you have experienced. A Marietta wrongful death attorney will help you determine what kind of damages have been made and if they are recoverable or not.
According to the law in Georgia, compensation is given in the form of damages. The damages are categorized into three namely:
Economic Compensatory Damages
Economic compensatory damages come in two dimensions. First, damages are caused between the time the negligent act happened to the point a loved one died. Secondly, the damages are incurred after a loved one has already passed on. Economic damages refer to any damages that can be given a monetary value. They include:
Medical expenses incurred in treating the deceased for injuries after the negligent, before their death
Lost earnings- These refer to any earnings that you could have benefited from if the deceased was alive
Lost inheritance
Expenses incurred during the funeral and the burial
Non-Economic Compensatory Damages
These are non-financial damages that you are awarded due to the deceased's death. They refer to any losses you incur that cannot be monetized. They include:
Lost companionship
Stress and anxiety
Pain and suffering
Loss of a father or mother figure in the family
Loss of an enjoyment partner
Loss of a source of counsel
Punitive Damages
These kinds of damages are non-compensatory. They aim to punish the defendant for their acts of negligence to deter other individuals from behaving or getting involved in similar acts in the future. They are also awarded to enhance the safety of the general public.
Marietta's wrongful death attorneys help you understand the damages you are entitled to by first understanding the fault. Whenever you feel that the kind of compensation you get is not equivalent to the amount of damage, your lawyer should be able to advise you accordingly.
Can Surviving Family File for Punitive Damages?
In Georgia, compensation for a wrongful death claim is calculated as if the victim survived. Unfortunately, the law in Georgia does not recognize family members as victims but as the victim's representatives. It allows them to file for a wrongful death claim but does not necessarily award them punitive damages.
The law may allow the awarding of estate representatives for punitive damages. The claim must be associated with egregious actions. While family members can seek any other type of damages, only the estate representative can file for punitive damages in Georgia. It is important to hire a skillful Marietta wrongful death attorney to help you understand whether you qualify for punitive damages or not.
How is Negligence Proven in a Marietta, GA Wrongful Death Case?
Wrongful death claims must be proved beyond doubt and based on negligence. A Marietta wrongful death lawyer needs to assist you in gathering evidence that proves that the defendant was negligent. Failure to prove negligence results in loss of compensation. Negligence in wrongful death can be proved on the following basis in Georgia:
Duty of Care
It refers to having an individual acting in a manner that proves they are careful and reasonable under certain circumstances. A wrongful death lawyer in Marietta can prove that the defendant had the opportunity to act reasonably in the situation that prevailed but did not. Duty of care demands that in any activity an individual undertakes, they are obliged to take care of their safety and the safety of others.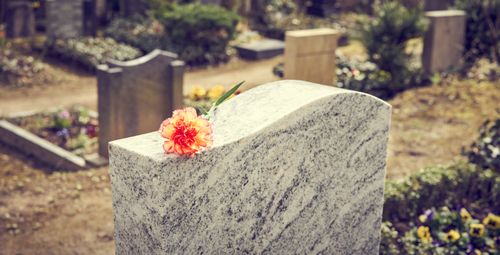 Breach of Duty
Breach of duty means that an individual has failed to take care of something they are legally responsible for in their line of duty. A wrongful death lawyer in Marietta will help you prove that the defendant did not carry out their duty as reasonably expected, leading to the wrongful death of a loved one.
Causation
In the aspects of wrongful death, a lawyer in Marietta must prove that the defendant's breach of duty was the real cause of the victim's death. It helps the court to clear any doubts about whether the victim had any preexisting conditions that might have led to their death.
It can be done in two ways. First, the lawyer could prove that the defendant's lack of actions caused the victim's death. Secondly, the attorney could prove that the victim faced death because the defendant's actions were malicious or negligent. Either way, the defendant's acts must be directly related to the victim's death.
Damages
A wrongful death lawyer in Marietta should also be in a position to prove that the victim faced damages, with death being the most evident damage. The law dictates that these damages must be quantifiable. These damages suffered include but are not limited to expenses incurred during the funeral and the burial and unpaid medical bills.
Working with a wrongful death lawyer in Marietta will help you gather evidence that can be used to prove negligence. An attorney will also ensure that this is done promptly.
How Do You Start a Wrongful Death Claim in Marietta, Georgia?
It is okay for you not to be familiar with the wrongful death claim procedures. That is why our Marietta wrongful death lawyers are at your service. After losing a loved one through acts of negligence by another party, filing a wrongful death claim is almost inevitable.
Here is a brief look at some of the steps you should follow to start a wrongful claim in Marietta, Georgia:
Ascertain Negligence
If you have lost a loved one and strongly believe that another person is responsible, you must determine who exactly they are and how their acts caused the wrongful death.
Ascertain Liability
To ascertain liability, you must have concrete proof of what happened and whose acts of negligence caused the wrongful death. You should also ensure that you gather evidence of all the damages caused. This evidence will help you determine the person liable for wrongful death.
Get an Attorney
A wrongful death lawyer in Marietta plays a critical role in helping you gather the right evidence and determine liability. An attorney will also help you deal with insurers and guilty parties who may overwhelm you with their defense mechanisms.
Make a Petition
The compensation claim can never take place until you have called a petition. The petition should clearly state that a wrongful death has taken place.
Get Evidence
Gathering evidence allows you to prove that a certain individual was involved in a negligent act that led to wrongful death. You must engage your lawyer at this stage since they better understand the law and what would or would not qualify as evidence.
File a Summon
Summons are used to inform the defendant that they have a wrongful death lawsuit filed against them.
Service of Process
It is a document issued to the defendant to notify them of the summon.
What is the Difference Between a Wrongful Death Claim and an Estate Claim in Georgia?
A wrongful death claim in Georgia and an estate claim are similar in that they both occur as a result of having a death occur due to another person's or entity's fault. Their differences come in the kind of damages and the individuals who file the claims.
In wrongful death claims, family members take the victim's part to claim death compensation for the victim's life or value. In a wrongful death claim, the spouse and children are given priority to claim compensation. The estate representative comes last.
In an estate claim, the victim's estate attempts to recover the expenses used during the burial and funeral. If the victim spent some time in pain and suffering before their death, estate representatives could also claim pain, suffering, and medical expenses.
A wrongful death lawyer in Marietta will assist you in determining the differences in the damages of the two different claims.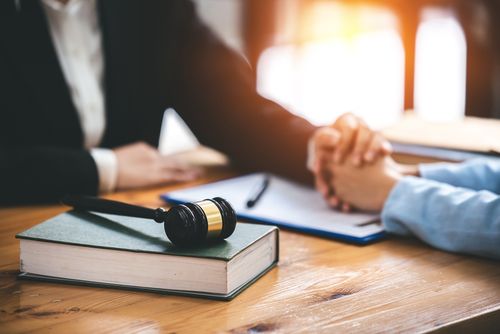 Avoid Going Through the Wrongful Death Claim Struggle Alone, Call Our Marietta Wrongful Death Lawyer
Wrongful death claims can be lengthy and tiresome, especially where the guilty party and insurers have a strong defense. That is why you should never take up a wrongful death claim in Marietta.
At Diaz & Gaeta Law, we help you make a successful wrongful death claim as you take time to grieve your loved one. We also help you understand that you have a legal right to pursue a wrongful claim just in case you are not sure if you deserve compensation or not. We provide you with the opportunity to access the personalized attention that you require after losing a loved one.
To reach a Diaz & Gaeta Law attorney, call us today at 678-329-9084 and get a free case review.