There are so many challenges that members of the LGBT community. Extensive research from the Center for American Progress has found that the LGBTQ community continues to face serious discrimination in the public, workplace, and even in their personal lives.
Just like everyone else, gay, lesbian, bisexual, and transgender people can find themselves dealing with issues such as immigration, divorce, child custody, and more or facing criminal charges. At Diaz & Gaeta in Atlanta, we offer expert representation in immigration, family law, personal injury, and criminal defense cases.
Call us today at 678-329-9084 to schedule a free consultation with an Atlanta LGBT lawyer.
Rights of the LGBT Community in Georgia
Our Atlanta LGBT lawyers understand the laws in Georgia and will fight to protect your rights.
Marriage & Adoption
Same-sex marriage was legalized in the U.S. in June of 2015. Married same-sex couples in Georgia have the same rights and benefits as opposite-sex married couples. The state recognizes stepparent adoption and joint adoption by married same-sex couples.
Gender Reassignment
Georgia law allows transgender people to change the gender listed on official documents after undergoing gender reassignment surgery.
Protections From Discrimination
The state of Georgia is among three states (Mississippi, and Alabama) with no state civil rights laws protecting LGBT people. State civil rights laws are geared toward offering protection from discrimination to those that have not been covered by federal law.
However, cities across the state of Georgia have enacted local laws banning such discrimination to varying degrees. This began in Atlanta, Georgia. The US Supreme Court ruled in June 2020 that sexual orientation and gender identity discrimination in employment is illegal.
Hate Crime Law
Georgia's hate crime law, which became effective on the 26th of June, 2020, has also covered sexual orientation. Under this law, criminals who target victims based on race, religion, sex, sexual orientation, gender, or disability receive harsher punishments.
What Types of Cases Can Diaz & Gaeta Help Me With?
At Diaz & Gaeta, we have a team of experienced litigators with different legal backgrounds. This makes us fully qualified to handle different types of cases, no matter their complexity.
Immigration
Here in Diaz & Gaeta, we have a team that has specialized in immigration and deportation defense. We have represented clients in the federal immigration courts and the USCIS (U.S. Citizenship and Immigration Service).
K-1 Fiancé(e) Visa
This is a visa for foreign citizens who are engaged to US citizens. It permits a foreign-citizen fiancé(e) to travel to the United States to marry his/her U.S. citizen sponsor within 90 days of arrival.
LGBT Marriage Visa
The U.S. government handles visa applications based on same-sex marriage in the same way they handle visas for an opposite-gender marriage. The same-sex spouse of a visa applicant coming into the United States of America for any purpose such as study, work, legal immigration, or international exchange is eligible to receive a visa.
U.S. Citizenship Naturalization
Naturalization is a process through which an immigrant to the U.S. can become a citizen. For a person to qualify or be eligible for naturalization, they must meet certain qualifications. The naturalization process is complicated, and it is best to have a skilled Atlanta LGBT lawyer guiding you.
Green Card Benefits
No matter where you are from, as long you are a green card holder, there federal benefits that come with that. You are eligible for benefits like education assistance and social security. Here at Diaz & Gaeta, we ensure you don't miss out on anything.
Asylum
An asylum seeker is a person who is fleeing their country. This can be due to their political beliefs, sexual orientation, and other reasons. Diaz & Gaeta has an impressive track record of helping clients seek asylum.
Withholding of Removal
At Diaz & Gaeta we are capable of stopping the government from deporting someone to a country where their lives or freedoms would be threatened because of protected constitutional rights involving religion, race, nationality, political stance, or sexual orientation.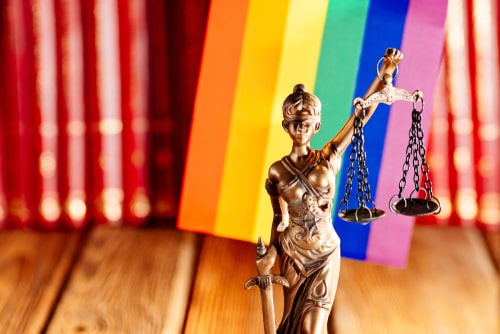 Criminal Charges
This is another area here in Diaz & Gaeta that our team of Atlanta LGBT Lawyers has paid close attention to. We have litigators who are passionate about criminal defense at any level. We represent people accused of theft, drug crimes, DUI, and sex crimes amongst other criminal charges.
Drug Possession
Are you facing drug possession charges in Georgia? We will guide you through the possible charges you may face and ensure that you make the right decision regarding your future. The first offense usually has a mandatory suspension of six months. We will look at all the evidence and advise on how to move forward.
DUI
If you have a DUI, we will go through the evidence and see whether there is a way to reduce jail time or pay a lower fine. Most DUI cases are treated as misdemeanors or felonies, which means that it can be difficult to obtain a job or housing when you need to. We can ensure that you receive the best outcome possible.
Personal Injury
If you have been injured because of another person's or entity's careless or reckless actions, you are entitled to financial compensation. Our experienced personal injury lawyers in Atlanta help clients hurt by defective products, car accidents, slip and fall accidents, and more pursue the maximum compensation.
Family Law
Family law focuses on family issues like divorce, adoption, and child custody. At Diaz & Gaeta, we understand the bias that LBGT people face in the legal system and we protect your rights and interests.
Domestic Violence
Domestic violence can occur in any relationship. We understand this and will represent you if you are a victim of domestic violence in an LGBT relationship. Domestic violence is a punishable offense in all states.
Divorce
Are you looking to get divorced and are in a same-sex relationship? We have experienced, dedicated, and compassionate Atlanta LGBT lawyers that will represent your case.
Child Support
If you and your spouse have a child and are getting divorced, you will need to figure out the specifics of child support. We at Diaz & Gaeta are equipped to handle your child support case and determine what is best for the child.
Custody Litigation
Divorce can get complicated with LGBT couples, and we understand this as lawyers. This is why we do our best to ensure a fair ruling if you have a child and need representation for custody litigation.
Restraining Order
If you would like to file or fight a restraining order filed against you, we can help you out. We will help you get documented and specific evidence to help our case.
Alimony
With the complicated nature of divorces for LGBT couples, alimony also becomes hard to determine sometimes. We can help you navigate the divorce and figure out what alimony is fair.
Why Are Diaz & Gaeta the Best Atlanta LGBT Lawyers for Cases?
Here at Diaz & Gaeta, we are an organization that advocates for and supports the rights of the LGBT community. We have a team of attorneys specialized in handling issues that face the LGBT community and can help both couples and individuals.
Here are some key reasons to choose our law firm:
We are experienced lawyers that understand the complex nature of cases in the LGBT community.
Using our experience, we ensure that all clients are represented fairly.
Our solid reputation for handling cases efficiently and giving the clients the best possible outcomes speaks for itself. Hiring us guarantees that you will get dedicated lawyers working on your case.
We understand LGBT laws in Georgia and always give our clients proper representation and the right legal advice.
Call Our Trusted Atlanta LGBT Lawyers Today!
Call Diaz & Gaeta today to get the best representation in your case. We assure you that our understanding of the complications that come with LGBT cases will help us give you the right legal advice. We are available for any questions that you may have. Call us today at 678-329-9084 for a free consultation.