When you lose a loved one, your entire world is forever changed. You are in grief and feel anger for the untimely loss of someone you cherished. The grief and anger are even more profound and acute when you know that someone's negligent actions caused your loved one's death.
However, no criminal charges were filed against the wrongdoer. Is there any way you can get justice? An Atlanta wrongful death lawyer will tell you that there is: by filing a wrongful death lawsuit.
You may not know that a wrongful death action does not depend on the authorities' decision to press criminal charges against the person responsible for your loved one's death. And the at-fault party is counting on your ignorance because they know that a skilled Atlanta wrongful death lawyer can win significant compensatory damages for you.
In this article, we will discuss in detail the rules for filing a wrongful death lawsuit and whether a potential criminal case impacts it in any way.
A Wrongful Death Lawsuit in Georgia Is a Civil Action
Everywhere in the United States, there are three types of courts of justice.
Criminal courts are where actions brought by the state against a person or organization are judged.
Family courts are where aspects related to divorce, child custody, and division of marital assets are decided.
Civil courts are where litigations between individuals and/or business entities are judged.
A wrongful death lawsuit will be heard in a civil court. According to the Official Code of Georgia 51-4-2 it is an action brought by the family of a deceased person against the person or persons liable for their death.
As we will explain below, there is a significant difference between proving guilt in a criminal case and proving fault in a civil case. And this is just one of the reasons why the right to file a wrongful death lawsuit is not influenced by the existence of any criminal charges against the at-fault party.
Differences in a Wrongful Death Lawsuit vs Criminal Case
Your Atlanta wrongful death lawyer will explain to you that there is little similarity – if any at all – between a criminal case for manslaughter or murder and a civil case for wrongful death.
These are the most important ways in which a wrongful death lawsuit is different from a criminal case.
1. There Is No Need to Prove Intent to Do Harm
In general, when we think of the idea of one person causing another person's death, we always associate it with the intent to harm them. In reality, many people lose their lives due to another person's negligence in:
Car accidents
Truck accidents
Slip and fall accidents
Medical malpractice cases
Defective product cases.
An Atlanta wrongful death lawyer does need to prove intent, malice, or even gross negligence to win the civil lawsuit. If, indeed, these elements exist and can be proven, the lawyer will also demand punitive damages.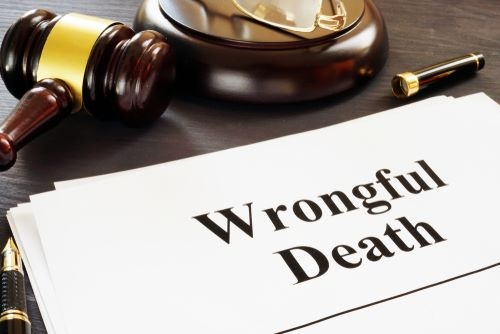 2. You Don't Have to Prove Guilt Beyond a Reasonable Doubt
In a criminal trial, the jury must be convinced beyond any reasonable doubt that the defendant is guilty. If a guilty verdict is given, the defendant likely will face a long time in prison and many other penalties. Thus, it is understandable why the standard of proof is so high.
By contrast, in a wrongful death case, the lawyer must bring a preponderance of the evidence showing that the defendant negligently caused the victim's death. The standard of proof is much lower – because you must prove that it is more likely that the defendant is guilty than not.
3. The Penalties for a Defendant Found Guilty Are Strictly Monetary
As we explained above, a criminal case where the defendant is found guilty results in a prison sentence. At the end of a wrongful death lawsuit, the jury will award financial compensation to the deceased person's family.
This is, in fact, the true purpose of this type of lawsuit: to give the grieving family compensation for the economic and non-economic damages sustained as a result of their loved one's death.
These damages include:
Medical care costs, if the deceased spent time in hospital before losing their life
Funeral and burial costs
Loss of future earnings
Loss of household services
Loss of consortium.
4. There Is a Statute of Limitations for Filing Suit
A murder case does not have a statute of limitations. A defendant can be charged and brought to court even decades after the deed. However, you only have two years to file a wrongful death lawsuit in Georgia.
It is the same statute of limitations applicable to all personal injury torts in Georgia. And this is why it is important to act as quickly as possible and not wait to find out whether the authorities will file criminal charges against the at-fault party.
What If Criminal Charges Are Filed Against the At-Fault Party?
What many clients want to know is what happens if the authorities decide to file criminal charges against the defendant in the wrongful death case. In this case, your lawyer will have one more argument to win your case.
If criminal charges are brought to the table, it is clear that the person was more than just negligent. It also ties them clearly with the event that caused your loved one's death.
Of course, the outcome of your suit does not depend on the criminal case. Once you win your judgment, it does not matter whether the person is found guilty or not guilty in the criminal trial.
Also, the existence of this pending trial has no influence on the enforceable character of the judgment. You have a valid document allowing you to pursue their assets and collect on the judgment.
Let a Spanish-Speaking Atlanta Wrongful Death Lawyer Help You!
The legal team at Diaz & Gaeta law firm is dedicated to helping clients get justice in various personal injury cases. The most difficult situation is when you lose a loved one and you feel this loss at every level: personal, emotional, and financial.
Our dedicated lawyers will help you file a wrongful death lawsuit to recover all the eligible financial damages. This is no consolation for your loss, but at least you will be shielded from financial difficulties.
We offer every new client a free case review, so contact us to schedule your appointment with an experienced Atlanta wrongful death lawyer.