When you rent an apartment, you have one basic expectation: safe living conditions. You want a solid roof above your head, warmth in winter, and reasonable security against intruders. However, as an Atlanta premises liability lawyer knows, many landlords offer properties for rent with unsafe living conditions.
This problem is more likely to occur in affordable housing units and in places which Hispanic people live in. Landlords will assume that you don't know English properly and, thus, you cannot complain. Moreover, they will use every known bias against you when you try to point out these unsafe living conditions and ask them to remedy them.
Fortunately, an Atlanta premises liability lawyer can and will speak on your behalf. If your landlord does not want to remedy the problems in your rental apartment, you have the right to be compensated for injuries and damages you suffered as a result of improper living conditions.
Georgia Applies the Implied Warranty of Habitability for Housing Properties
Most US states, including Georgia, use the implied warranty of habitability principle. This principle means that a housing property:
Meets basic living and safety standards at the moment of occupation
Will continue to meet these conditions for the duration of the lease.
Unsafe living conditions mean that the landlord fails to provide you and your family with:
Drinkable water
Working electricity
Sanitary premises
Adequate heating and ventilation.
Moreover, as your Atlanta premises liability lawyer will point out, the entire structure where your rental unit is located must conform to the latest building codes.
Finally, according to the Official Code of Georgia 44-7-13, a landlord is obliged to maintain the premises in repair.
How to Know If the Apartment Has Unsafe Living Conditions?
Any building that is constantly in use suffers from wear and tear. Minor issues, such as a dripping sink or a creaky door, do not make the house unsafe or unsuitable for living.
However, there are situations when your health, life, and security are threatened by issues that the landlord should have repaired or resolved. While these issues may appear to be self-evident to you, the landlord may argue that you are exaggerating.
This is why, if you feel that you have unsafe living conditions in your rental home, you should get in touch with an experienced Atlanta premises liability lawyer who speaks Spanish. Meanwhile, these are some examples of issues that represent a breach of the implied warranty of habitability.
1. Missing or Defective Smoke and Carbon Monoxide Detectors
Gas is the most frequently used fuel for heating and cooking. Gas furnaces and cooking stoves make our lives easier and more comfortable. However, gas leaks and smoke resulting from burning represent serious health hazards.
This is why all housing buildings must be equipped with monoxide gas and smoke detectors that work properly. If they are missing or not working, you and your family are in constant danger. You should report this issue to your landlord as soon as you notice it.
If the landlord fails to take action, you should reach out to an Atlanta car accident attorney to learn what the appropriate actions to take are.
2. The Doors and Windows Do Not Lock Properly
Personal safety is one of the first things you can expect from a home. If the main door or windows do not lock, this represents an instance of unsafe living conditions. And if you and your family suffer injuries and economic damages due to inadequate security, you have a valid premises liability case against your landlord.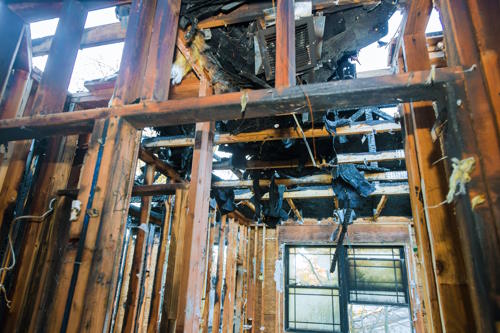 3. Mold
Mold is a type of fungus that takes hold in warm and humid environments. It multiplies through spores, which fly through the air and can be inhaled by people. Any Atlanta premises liability lawyer knows that mold is a serious health hazard. It can trigger allergies, as well as life-threatening asthma attacks.
The presence of mold in a rental unit is a breach of the implied warranty of habitability. You should document the presence of mold in your home, as well as the attempts to inform the landlord to solve this issue.
4. Damaged Stairs
Stairs must be safe to walk on up and down and provided with a handrail. Old and damaged stairs can lead to serious fall accidents, resulting in injuries such as:
Broken bones
Head and neck injuries
Back and spine injuries.
Usually, stairs are part of the common areas of the building and your landlord is obliged to maintain them in good condition. Otherwise, they are knowingly maintaining unsafe living conditions and, thus, are liable for any damages you suffer after an accident.
What Are Your Legal Options to Remedy Unsafe Living Conditions?
The official Official Code of Georgia 44-7-13 specifies two options to resolve a breach of the implied warranty of habitability:
File a lawsuit against the landlord
Repair the issue and deduct the expenses from the rent.
As any Atlanta premises liability lawyer will tell you, the second option is not in your best interests. Even if you collect several offers from contractors and select the most affordable, your landlord may still dispute the cost as unreasonably high.
Ideally, you should get your landlord's approval before beginning the repair work. However, since they did not solve the issue after you notified them, chances are that you will not obtain this approval.
Therefore, your best option is to collect evidence of this breach of contract and bring it to an experienced Atlanta premises liability lawyer. If you or a family member suffer an accident or develop a health condition as a result of unsafe living conditions, your lawyer will instruct you to file an insurance claim against your landlord.
If their insurer refuses to settle your claim, then you can consider filing a lawsuit against the landlord.
A Spanish Speaking Atlanta Premises Liability Lawyer Will Give You the Best Advice
If you feel that your landlord does nothing to rectify unsafe living conditions, contact Diaz & Gaeta law firm. An experienced Atlanta premises liability lawyer will analyze your case and give you reliable legal advice. Even if English is not your first language, our Spanish-speaking legal team will understand you perfectly.
If you have a valid case, we will fight for the fair compensation you deserve and to ensure that your landlord complies with their obligations. Everyone has the right to live in a safe and healthy home – this is the law.
Do not fear retaliation from your landlord for filing a complaint in Georgia. In our state, evicting a tenant for this reason is illegal. Thus, do not wait too long and schedule a free case review with our Atlanta personal injury lawyers as soon as you realize your landlord will not do their duty and make your rental unit habitable.
Call us at 678-329-9084!