Teen drivers can be dangerous on the roads due to distracted driving, night driving, drowsy driving and being new or inexperienced drivers. The risk of car accidents is actually higher in 16-19-year-olds than or any other age group.
75% are due to "critical errors", such as speeding, distraction, and a lack of proper scanning the road in order to identify and respond to hazards.
If your teen is getting their driver's licence or just passing their test, it's possible to feel nervous about them driving on their own. Perhaps you were searching Google for "car accident lawyers in Atlanta" or "Marietta car accident attorneys". If you're here and are a parent of a teenage driver, continue reading to find out what to do if your teen gets into an accident.
Types of Teen Driver Accidents
Teens are most likely to be involved in the following types of accidents:
Distracted Driving
Millions of drivers, of all ages, continue to ignore the laws against distracted driving despite them being quite clear. Distracted driving can lead to catastrophic injuries. Let's look at some quick facts about distracted driving and teens:
A CDC study showed that 39% high school students who drove in the last 30 days texted or emailed while driving at minimum one time
Students who text or used email while driving are also more likely than others to report other risky driving behaviors
Don't always use a seatbelt
More likely to ride with someone who has been drinking
More likely to drive after drinking
Auto-Pedestrian Accidents
A pedestrian-to-auto accident can cause serious injuries and damages, both mentally and physically. A traumatizing auto-pedestrian accident can happen to anyone, but it is especially devastating for teens. Auto-pedestrian accidents are more likely to occur due to alcohol use, distracted driving and night driving. Auto-pedestrian accidents can cause serious injuries so it is important that your teenager consults an attorney immediately after being involved in a collision with a pedestrian.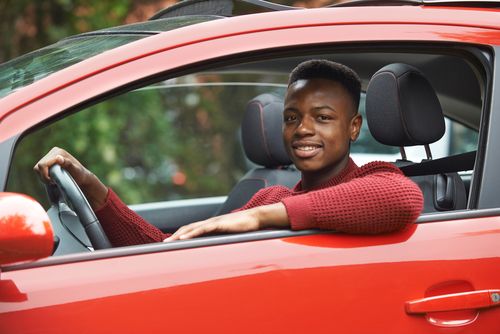 How to Handle a Teen Driver's First Accident
It is the worst nightmare for parents to receive a call from their teenager driver to inform them that they have been in an accident. It is important to remain calm, reassuring and supportive. This experience can be very traumatizing for teen drivers. The most important thing is that they feel okay and are not injured.
It can be very frustrating, especially if your teenager was texting or driving with rambunctious peers or doing something that could have prevented the accident. However, it is important not to get angry, shout at, or blame your teen for the accident. This is a learning opportunity that can be used to reinforce the importance of safe driving for your teen driver's safety, their passengers' safety, and all pedestrians and cars on the road. Reaffirm that driving is a privilege.
Once your teen is safe, it's time for you to begin gathering information. You can meet them at the scene of the accident or as close as possible. Here are our recommendations:
Make sure that your teen's car, and all other cars involved (including yours), are moved to a safe location to avoid traffic jams.
Get in touch with the police immediately. Call an ambulance if your teen is hurt.
Make sure your teen driver checks the car for any fluid leaks. Call 911 if you find any fluids leaking.
When you reach the scene, grab a notebook or use the Notes app to keep track of everything. Note down the details of the scene, including the weather conditions and the time it occurred.
Gather the contact information of any witnesses.
Take photos of the scene and cars using your smartphone
Do not make any comments about other motorists claiming fault. It is best not to speak to anyone about the accident except your attorney.
For the police to properly investigate an accident, you must cooperate with them and give all information.
Contact a Marietta car accident lawyer. It can be overwhelming for teens to experience their first car accident. You can rely on the knowledge of a licensed attorney for guidance and protection.
Although it is scary to think of our children being in an accident, a little preparation can help you be ready to handle the situation and minimize any damage.
Are You Looking for an Attorney to Represent You or Your Teen Driver in a Marietta car accident? Get in Touch with Us Today!
A skilled Marietta car accident lawyer is necessary if your teen was recently involved in a car crash. At Diaz & Gaeta, we are the best car accident lawyers in Marietta, Georgia thanks to our expertise and dedication to our clients. Let's start building a strong case against your teen driver.
Contact us today to schedule a free consultation.